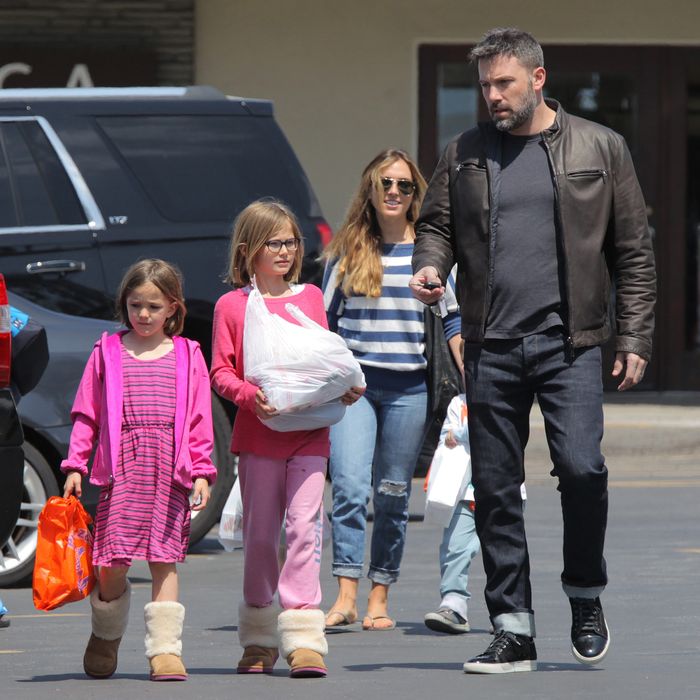 Ben Affleck with his children and their former nanny.
Photo: Pablo/FAMEFLYNET PICTURES
This week, Eva Amurri Martino, an actress who also happens to be the daughter of Susan Sarandon and Italian film director Franco Amurri, fired her daughter's nanny.
Or, to be more specific, her husband, Kyle, fired the nanny, and Eva blogged about it. This was the second nanny the Martinos had fired within the span of about a month and a half — the first one for being "untruthful" in a "major way." This time, the nanny, who had been on the job for only a few weeks, had accidentally-on-purpose sexted Kyle while Eva was out of town. Her sext — purportedly intended for a friend — read, "OMG. Girl, did I mention to you how hot and sex my Boss is. I would love to fuck his brains out ha haah. Too bad he seems not to like thick Latin women with lots to hold on to LOL." Kyle left for work after receiving the text, but returned soon after to confront the nanny and fire her.
The internet has gone a little bonkers for this story. In a world awash in tabloid tales of husband-nanny affairs (most recently Ben Affleck and Gavin Rossdale), this one seemed, on the surface, to be a win for the family. Kyle Martino didn't cheat, nor was he even tempted — he was, in the words of his wife, a "legend." Eva Amurri Martino gets to remain secure in the knowledge that her husband is still solidly hers, and the baby — well, there's always another nanny.
Nanny stories have enduring appeal because they're classic love triangles, though the triangle, disgustingly, surrounds one or more children. But under the surface, there's something uncomfortable in the way we relish tales in which an outsider crosses or blurs the boundaries in a famous family. The fact that the interloper is employed by the other two members of the triangle is problematic, to say the least. These stories aren't just about sex: They're about power, who has it, and who doesn't. They're also about how uncomfortable many of us are with the fact that we need to hire another primary caregiver for our own children.
In these scenarios, the husbands almost always come out looking bumbling: neither creative enough to bang someone who's not in the background of family paparazzi shots, nor smart enough to cover his tracks. No one evokes this mixture of pity and derision better than Ben Affleck, whose recent back-tat travesty prompted even his ex-wife Jennifer Garner to say, "Bless his heart."
"People have pain — they do regrettable things, they feel shame, and shame equals pain. No one needs to hate him for me," Garner goes on: "I don't hate him. Certainly we don't have to beat the guy up."
But what about the women? How we feel about the women in these situations — the cheated-on wife and mother, the nanny — is complicated. It's easy to relate to the wife whose family is threatened because many of us can somewhat uneasily envision being in that role. And it's easy to write the nanny off, as Eva Martino does in the first paragraph of her post, as "trashy — really trashy." But instead of trashing (or lauding) the nanny, let's consider that these stories perpetuate a harmful and largely incorrect stereotype about women who take on an undervalued job: caring for children when their parents can't be with them.
Nannies have a tricky role, especially if they're working for wealthy celebrities, in which case they might live with their employers. They travel with them, go on set with them: Instead of forming a relationship directly with the children, they often join the family circle in a much broader way. This necessarily makes navigating the job difficult, as boundaries blur. One experienced nanny I spoke with said that "uninvolved parents" are a very "bad sign," and that she wouldn't accept a job if the parents seemed unengaged. And while the nanny's primary responsibility is to care for the children, it's clear in stories like these that the children became an afterthought as parent and employee disregarded their best interests in order to fuck around.
But in all situations — celebrity parents or otherwise — there is almost always a power and wealth imbalance between the parents and the nanny. Eva Martino gets to the heart of the matter when she writes: "How dare this person, who we were paying very generously to care for our young daughter– how dare she use her time with my child, in my HOME, to plot out a way to screw my husband and screw up my family!" Not only is the nanny an employee, but in these scenarios, the income inequality (even if, as Eva writes, she is paid "very generously") is always severe. If reported figures are correct, nannies in the top tier — those for performers like Jay Z and Beyoncé — make more than $100,000 a year. But let's be clear: that's not the kind of money that Jay and Bey are pulling in.
And as employers, neither parent has any right to make sexual advances toward their nanny, even if those advances can reasonably be expected to be reciprocated. That may sound a bit schoolmarmish, but it's a question of sexual harassment. While the story of a hot young nanny secretly infiltrating a family and trying to bag the husband is scandalously appealing, it's much less common than the more disgusting scenario in which the creepy dad makes unwanted advances to the young woman he employs to care for his baby. Most nannies are women — only around an estimated 10 percent are men — and many are undocumented workers, making it hard for them to avoid the advances of an employer. Navigating the hallowed territory of the nuclear family is fraught enough without adding this bullshit to the mix.
In reality, nannies often occupy a very special place in a family, remembered for years after the child has become an adult. They enable parents to work the long hours they must in this country, and are a vital part of the unspoken, unregulated system we have cobbled together in the United States, where leave is hard to come by and sick days are few and far between. Nannies — especially in large cities like New York and Los Angeles — are often more affordable than day-care centers, especially when the nanny is capable enough to care for more than one child and "share" across more than one family.
Maybe we're not quite comfortable with the idea that sometimes, a child's primary caregiver will be someone other than its parents. It's okay to feel threatened by such a person, and it's common: The nanny I spoke with said that mothers, in her experience, didn't feel challenged by her presence on any sexual level, but " the major and usual threat" is "the kids spending more time with the nanny than with the mother." Of course, she says, it's also part of the nanny's job to "make the mother feel that it is all right to leave the kid" with her. And it's not until the nanny and the parents work through that discomfort that a real working relationship can begin.
This is why it's refreshing to hear Jennifer Garner speak of "the nanny" in such measured and fair terms, addressing both the health of her marriage and the unfortunate consequences for her children: "She had nothing to do with our decision to divorce. She was not a part of the equation. Bad judgment? Yes. It's not great for your kids for [a nanny] to disappear from their lives."