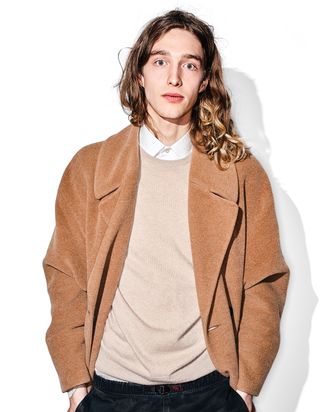 "I've been approached to model, but I don't have a good sense of my body."
Photo: Bobby Doherty
Hardy Hill, Artist
Where do you make art?
I graduated from RISD last May and have been living in Providence while house-sitting in Massachusetts. I don't drive, so I'll be deposited at these remote houses with a big bag of groceries and then unable to leave for two weeks. It felt like I was in a Michael Haneke movie.
Are you thinking of moving to New York?
I'm going to L.A. with my boyfriend — he's also an artist. New York doesn't feel like an option anymore; it's like a forest that's grown so densely no new growth can occur. A lot of my peers who moved here have gotten into fashion: They graduate from art school and realize they've been wasting their time because they're so hot.
Hot, as in attractive?
Yeah! They're now models-slash-designers-slash-artists. I've been approached to model, but I don't have a good sense of my body. My answer is usually "Thanks, but I think you'd be disappointed."
Lightning Round
Age: 22
From: Conway, Massachusetts. 
Coat: "My mother's. There's a nice continuity to wearing your parents' clothes."
Reading: Omensetter's Luck, by William Gass.
Social media: "I have Instagram, but I struggle with it because I'm both too shy and too vain."
Favorite TV show: UnReal. "I was impressed by how utterly gruesome it is."
*This article appears in the March 21, 2016 issue of New York Magazine.