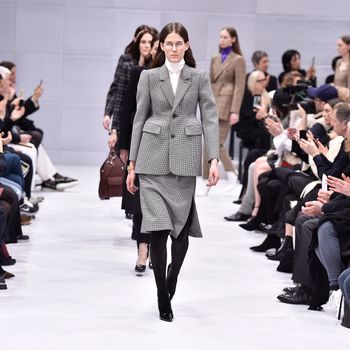 This weekend, the house debuted its first show under Gvasalia.
Photo: Catwalking/Getty Images
The verdict is in: Demna Gvasalia's "new chapter" of Balenciaga is cool-kid-tested, critic-approved. His Vetements show has, for the past several seasons, been Paris's hottest ticket. And the Georgian sensation got plenty of plaudits for the casting of both shows. The lineup consisted of swaggering cool kids with jagged, DIY haircuts. Some of them were street-cast, some of them were Gvasalia's friends and collaborators — including an artist, a DJ, and Vetements stylist Lotta Volkova.
Since they weren't all models, a couple of them hovered well under six feet. A few of them weren't rail-thin, either! (A sweatshirt that read "Unskinny" featured prominently in the collection.) Mission accomplished, right? You'd think so, to read many of the laudatory reviews that drew particular attention to the lineup of models, who did, to be fair, represent a certain kind of alternative to the typical lineup on many runways.
In the wake of all that, does it seem churlish to point out (as I did last week about Vetements) that said "revolutionary" cast happened to be all-white? And that the Balenciaga show, too, included not a single person of color? When the clothes are "cool" enough, do we just suddenly not care? Gvasalia's two collections certainly weren't the only acclaimed shows in Paris to follow that policy: Comme des Garçons, too, has had this problem going back to 2010, with the Fashion Spot's runway diversity report calling the brand out last season for its all-white lineup. Other PFW shows that did not include people of color this season included Junya Watanabe, Ann Demeulemeester, Undercover, and Veronique Branquinho. (We've reached out to reps for Vetements and Balenciaga for comment on the casting, and will update this when we hear back.)

While most reviews didn't mention the notable absence of people of color, the reaction on social media was much stronger. Prominent casting director James Scully — who's worked on shows like Stella McCartney and Carolina Herrera — posted about the show on Instagram, writing, "So if you're the designer the whole world is looking to right now, how great that your message is one of exclusion which is never in fashion. It must feel like a slap to all of the people of color who line up to buy your clothes that your message to them [is that] you don't see them in your world. Two strikes out. And the award for most anticipated and biggest dissappointment [sic] at once goes to…… Demma [sic] Gvasalia," adding a thumbs-down emoji. Bryanboy was more concise, and a bit arch, on Twitter, saying, "Not a single person of color at that 45-look Balenciaga show. I guess they don't exist in Russia/Eastern Europe?"

The fact that Gvasalia cast so many friends — all of whom just happen to be white — feels like a cousin to the concept of "hipster racism" that came up around Lena Dunham and Girls several years ago. It seems like a cop-out to say that you're simply drawing from your own (homogeneous) inner circle, especially when you've explicitly made it your mission to include the people fashion usually excludes. Gvasalia has talked about being inspired by the real people he sees every day, living in Paris's diverse Ninth Arrondissement. Surely, many of those people are not white.
Some of the criticism has probably been blotted out by the uncertainty of the industry in general. Fashion is in a precarious moment right now, and everyone is hoping that Gvasalia will be the magic potion that gets a tired public to buy, buy, buy — whether it's wildly oversize, street-style-ready hoodies, or innovative takes on Cristóbal's cocoon silhouettes. But just because the industry is squarely behind him doesn't mean his every move is beyond question. And he shouldn't get a free pass just because we all agree he knows how to make great clothes.