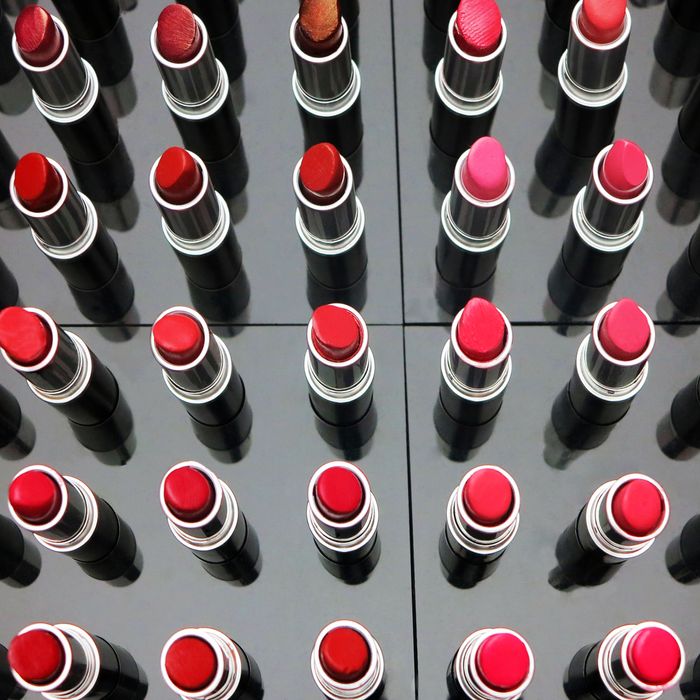 Photo: Geri Lavrov/Getty Images
The women meandering through the convention space in Manhattan last week glanced at a video about hair loss and kept right on walking. Tonight was not about female-pattern baldness — depressing! — even if the Keranique® system had impressive before-and-afters. The 2,400 attendees were on the hunt for stuff. Bright, sparkly stuff. Free stuff. Skinny brow pencils and chunky lip crayons, bouncy gel moisturizers and glassy lip-plumpers, gold and silver heat-sealed hair tattoos. All of it was sexy with a capital S and multiple x's.
This was the Cosmetic Executive Women Beauty Product Demo, arguably the world's biggest beauty counter, an annual mob scene that, for $115 a ticket, gives beauty-industry members a close look at the nearly 800 products vying for a CEW Beauty Insider Award this May.

At the product demo, you learn many truths:
It's not enough to be clean, you must be pore-deep, sonic-level, silicone-brush clean. There were body-scrubbing brushes (ProActiv+ Deep Cleansing Body Brush), face scrubbing machines with rubbery quills (Foreo Luna), and battery powered foot-scouring devices (PMD Personal Microderm).
That said, you also have to get a little dirty. The GlamGlow booth, manned by the company founder, Glenn Dellimore, displayed mud — Supermud, Youthmud, Gravitymud, Thirstymud — in jars that complemented his bright-pink blazer. At the It Cosmetics table, the demonstrator took taupe and brown pencils and drew flecks that looked like eyebrows on the backs of women's hands. No one seemed to wash them off.
Your hands, by the way, will also be supersoft. At booth after booth, demonstrators pulled out tiny spatulas, dipped them into jars of cream and stroked them on the backs of hand after hand. By hour two, things became slippery. "I'd hug you, but I'm covered in product," one man declared.
The word product is always singular. The word cleanse is preferable to clean, and wash is simply unacceptable. Speaking of, soap-on-a-rope is back; it comes from Lebanon in five scents: jasmine, rose, tuberose, amber, and orange blossom (Senteurs d'Orient).
Apparently, one must still suffer to be beautiful. At the ConAir station, the FashionCurl, which looks like a blow-dryer with a ball at the end, was a hot item. One eager volunteer offered herself up, saying, "I'm going out to dinner after this." A stylist clamped the device over a section of her hair, pressed a button, and the machine sucked up the hair like a strand of spaghetti, which it would then spit out in a spiral curl. Except that it didn't. "Nooooo!" the volunteer wailed. "It's stuck!" The stylist pried opened the ball, revealing a tangle of hair in the FashionCurl's inner chamber. He pulled ("Owww; I hear breaking") and, five slightly panicky minutes later, freed what remained of the strands. Perhaps it's time for a visit to the Keranique® booth.
What's trendy in food often travels to beauty. Makeup and skin care are now labeled "gluten-free." Artisanal butchers now make balms with their leftover tallow, and cold-pressed oils are a thing ("I like to think of our product as cold-pressed juice versus everyone else's V8," said the Kat Burki representative of the line's creams and serums).
If you're looking for free stuff, get in line. "I have no idea what's at the end of this," said one woman standing behind 40 or so others, juggling a plastic cup of white wine, an iPhone, and a wad of pamphlets. "I just saw the line and followed everyone." She would be rewarded with a brightly printed Birchbox filled with tiny product samples. At a Wheel of Fortune–style station, people were spinning for a chance to win a faux-lash application or a certificate for full-face makeup at Blushington, the Drybar of makeup (three in Southern California, one each in Dallas and New York; more coming). Hell to the Yeah.
The accounting booth gave out pens, the kind that dispense ink, on paper. Thank you, Ernst & Young!
Even if you don't need any more beauty products and your significant other swears he/she will kill you if you bring home so much as a drop of argan oil, you're still going to wait half an hour in the line for the gift bag at the end of the night. "I don't know what's in it, and I get a lot of free products," said a woman who works at L'Oréal. "But I'll wait. I'm always looking for the next magical thing."