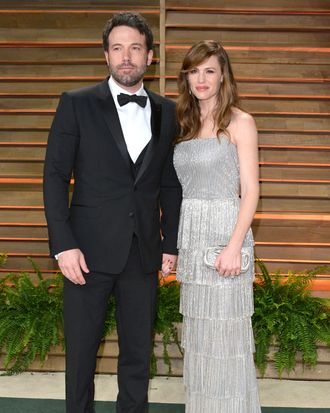 Ben Affleck and Jennifer Garner.
Photo: Alberto E. Rodriguez/Getty Images
In a New York Times interview, back-tat-haver Ben Affleck spoke for the first time about his recent divorce from Jennifer Garner, as well as his struggles as a tortured artist.
Ben Affleck is a good guy deep down, but also, he contains multitudes. He's a man trying to make things right in this cold, hard world. To quote Jennifer Garner: "He's just a complicated guy. I always say, 'When his sun shines on you, you feel it.' But when the sun is shining elsewhere, it's cold. He can cast quite a shadow." These days we're guessing his shadow is shaped like a rising phoenix.
Even though Affleck "vowed not to" talk about his divorce, he did have a couple words to say about his ex-wife:
"Jen's great. She's a great person … We're on great terms. I just saw her this morning, so that's the reality that I live in." 
Affleck — who is described as "friendly and funny, but also soft-spoken and vulnerable" — elucidated on this "reality" throughout the interview, pulling out all of his softboy charms. He always strives to be better, he said, but understands that "It's O.K. to just chill for a second."
Unfortunately, Affleck did not mention the topic foremost on our nation's mind: What is up with his hideous back tattoo?