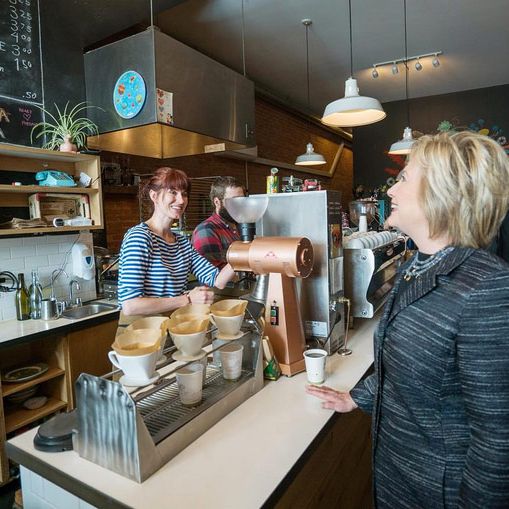 Jill and Hill.
Photo: Hillary Clinton/Instagram
The Hillary Clinton campaign tour took a stop in Detroit, Michigan, recently and did what candidates do: stopped into a local business and staged a photo op to prove that they, like us, patronize local businesses. "Inspired by the women who started @AvalonBakery. Highly recommend the coffee, too," one of Clinton's interns captioned an Instagram of this sort. Nothing to see here.
That is, until the woman in the photo found out and told the campaign she was not thrilled to be associated with them. "That's me and I'm voting Bernie," barista Jill Wilson wrote. "I'd like it if you took the pic down." Since then, Clinton's staffers changed the geotag on the Instagram post from Avalon Bakery to simply "Detroit, Michigan" and have removed the tag in the caption pointing to Avalon.
While the photo remains on Clinton's Instagram, it will soon be forgotten. A good roasting, however, is forever.