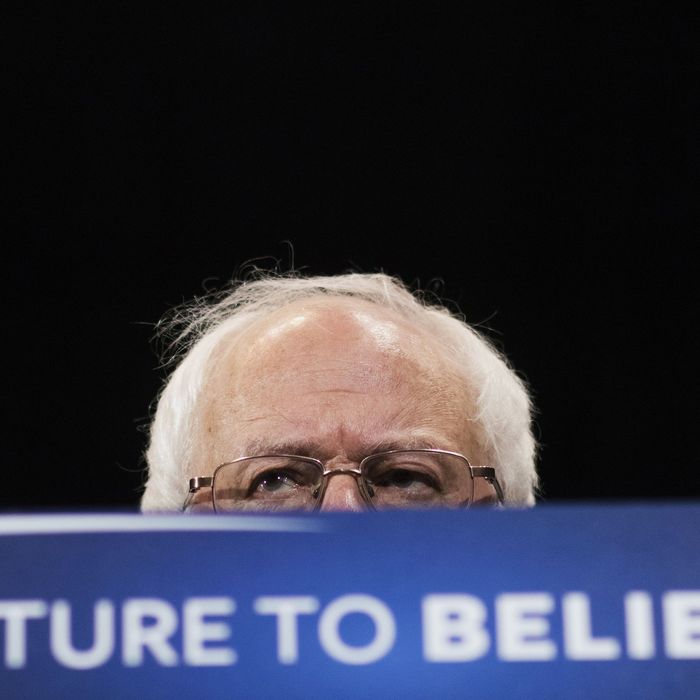 Uh, Bern. My man …
Photo: Ty Wright/Bloomberg Finance LP/Getty Images
A new report by Jezebel today looks at the gender and pay stats among the campaign staffs of our stunning primary candidates. The numbers aren't stellar — in fact, they're even worse than we imagined. Who knew!
Bernie Sanders, he of socialist fame, comes out worst in Jezebel's report, especially considering his insistence that he is a candidate for the people (women included). Of the top ten highest-paid staffers on his payroll, none are women. To make up for it, we suppose, on average women make a little under $1,000 more than men. But they're still markedly missing from his campaign's highest earners. Men are really feeling the earn, I guess?
The investigation looked at year-end finance reports of the six active candidates in the race remaining — Hillary Clinton, Bernie Sanders, Donald Trump, Marco Rubio, Ted Cruz, and John Kasich (lol). Every campaign except for Hillary Clinton's employees significantly more men than women (Clinton has 324 women and 202 men). Cruz is the candidate with the worst pay discrepancy: On average, his male employees make $20,000 more than female employees. The rest of the report, including a list of the names and salaries of the campaign staffers plus Jezebel's methodology, can be found here.
Really can't wait to see all those Bernie Bros sharing this important information regarding their favorite candidate on Facebook!!!