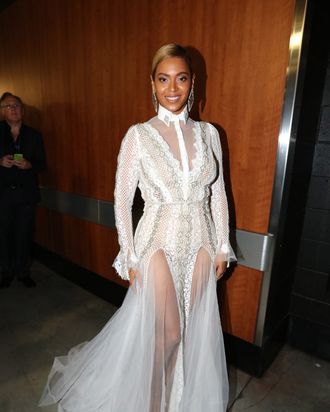 Not athleisure.
Photo: Mark Davis/WireImage/Getty Images
Ivy Park. That is the name of Beyoncé's much-anticipated activewear collection, which has been under wraps since the project was first announced a year and a half ago. (When you keep an entire album a secret, a clothing-collection title seems like small potatoes.) Per a release from the brand, Ivy Park— which happens to evoke both the singer's daughter's name and that of her company, Parkwood Entertainment— is a joint venture with Topshop CEO Sir Philip Green. (We know she's already a devoted fan of Topshop.) It is not, as has been widely reported, a Topshop collaboration. However, it will be sold at Topshop, as well as at Nordstrom and Net-a-Porter. Queen B just posted a teaser image on her Instagram.
The release from the company says it's targeting "all women of all body types, all sizes, and all price-points"— indeed, the 200-piece collection ranges in size from XXS to XXL. Members of the Beyhive, or people who are simply in the market for affordable athleisure, can get their hands on it in mid-April.