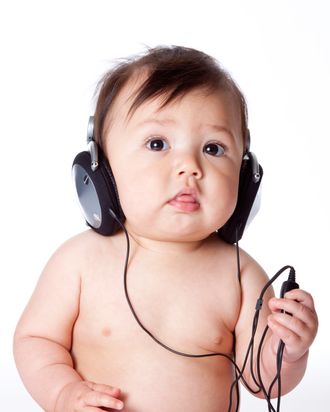 Spotify just released a birthing playlist — music to listen to while you're in labor. Constructed with the help of a (male) ob-gyn, it includes songs like the Lumineers' "Ho Hey" and David Bowie and Queen's "Under Pressure." Oddly, though, it doesn't include Shakira's "Hips Don't Lie," which was an important feature of the birthing playlist I spent a good amount of my pregnancy obsessing over.
"Hips Don't Lie" fulfills all the requirements of a labor jam: It's upbeat, reminiscent of fun times, and almost too literal (because when you're in labor, your hips, they do not lie). If your baby happens to pop out while it's playing, well, you could certainly do worse for entrance music. And Shakira's appeal is so universal that whoever else is in the birthing room — the doula, the ob-gyn, the anesthesiologist, the random nurse whose name you never caught, your spouse, your mom — will probably appreciate the selection.
That's the hardest part about constructing a delivery playlist: You're simultaneously making a workout mix and DJing a party at which the guest of honor is a tiny, tender infant. You have to balance your own needs, the needs of those around you, and the needs of your child. In a way, it's the perfect introduction to motherhood, because as a mother, you will be trying to balance those needs for the rest of your life.
This gave me great angst as a pregnant lady in the winter of 2013, because the album I found most motivating at the time — the one I listened to while running, and then pregnantly waddling, around a three-mile loop in my neighborhood — was Fucked Up's "David Comes Alive." The song I found most motivating was Jay Z's "The Takeover." As a deeply unathletic person who had found joy in running only once I started treating it as an opportunity to make playlists, I was pretty sure that I could deliver a baby completely drug-free if I had the right music. But would the baby really appreciate Canada's most melodic hard-core band? Would the nurses think I was a douchebag if I announced that instead of an epidural, all I wanted was Jay Z's greatest diss track on repeat?
Anyway, maybe it was a mistake to treat labor like an extended three-mile run. I had some experience with revved-up music as a cure for medical problems — during a trip to L.A. early in my pregnancy, the only thing that kept me from puking on the freeway was Justin Timberlake's "Rock Your Body," which is a fun thing to explain to everyone else in the car. But experienced birthers always seemed to emphasize the need for peaceful relaxation.
Maybe what I needed wasn't a cardio gym mix, but some kind of soothing compilation of the songs that made me happiest. Songs like Nina Simone singing "Suzanne," a sparkling Leonard Cohen cover that always reminds me of driving across the Verazzano Bridge when I first moved to New York, the harbor glinting, the future ahead. Or, though it wasn't very Zen, Ryan Adams's "New York, New York," which my husband and I listened to a lot in the first year that we lived together. (Ultimately, that's the song that was playing when our son was born.)
In the end I made two mixes: "Getting It Done" and "Soothing." Then I dumped them both into a shared playlist in case I just wanted to shuffle. I put in the Jesus and Mary Chain's "Head Down" because that was the direction we wanted the baby to go. I put in John Lennon's "Beautiful Boy" for obvious reasons — it's on the Spotify playlist, too — and the '80s staple "Joey" because that was what we planned to name him. I put in a bunch of Belle and Sebastian songs because I was a very sensitive high-school student. Both Kanye's and Kelly Clarkson's "Stronger" went on there, as did, in the end, one song from Fucked Up.
I probably put more time into my playlist than my birth plan, but ironically, I spent most of the labor wanting nothing but quiet. When it came time to push, though, right around the moment when I wished I'd just taken the damn drugs, I asked if we could maybe listen to some music. The doula pressed play, Shakira filled the room, and, at least in my deeply birth-addled memory, everyone started to relax a little. Then the doula started to laugh. "Are you dancing?" she said. "Because whatever you're doing, keep it up — it seems to be working."