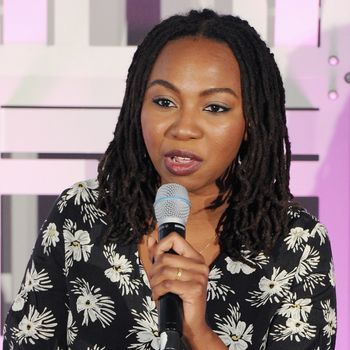 Black Lives Matter co-founder Opal Tometi at a New York panel last November.
Photo: Craig Barritt/Getty Images
On July 13, 2013, when George Zimmerman was acquitted in the killing of Trayvon Martin, the activist Alicia Garza posted a simple message to Facebook from an Oakland cocktail bar: "Black people. I love you. I love us. Our lives matter." Her friend Patrisse Cullors saw the post, created the #BlackLivesMatter hashtag, and together with Opal Tometi the women co-founded Black Lives Matter.
At Marie Claire's Power Trip conference in San Francisco today, co-founder Tometi explained how the three words evolved from a simple hashtag to their current place within the national movement. After Zimmerman's verdict and initial online response to the hashtag, their purchase of the blacklivesmatter.com domain was key, Tometi said.
"It really spoke to the fact that words actually matter. They're significant, they can transform and open up our imagination." Later when Michael Brown was killed in Ferguson, Missouri, the three words took on a new meaning. "People throughout St. Louis and Ferguson really took to the streets," Tometi said. "They were mourning, they were sad, they were outraged, and they were met with some brutality, with pepper spray, and so on. In that case we saw that we actually had to embody the message, right? We had to actually go and show up for our brothers and sisters that were on the ground."
More than 500 people joined the Black Lives Matter Freedom Ride and traveled to Ferguson in 2014, rallying together and supporting each other in healing circles. Inspired by the transformative experience while there, attendees asked the Black Lives Matter team for a network "beyond what we have online," Tometi said, "to build communities of practice of our beliefs … to coordinate our efforts and to commit to justice like we see it."
Today there are 32 Black Lives Matter chapters, forming an infrastructure with real social impact. "It's not that we created a movement," Tometi added. "It was there. People were already inspired. We participated in a particular way and made an intervention that says, We have to acknowledge what it is. Right now we know that injustice is pervasive in our communities, anti-black racism is a fact, and it's affecting all aspects of our lives, and we need an intervention here."
Reported by Dayna Evans.