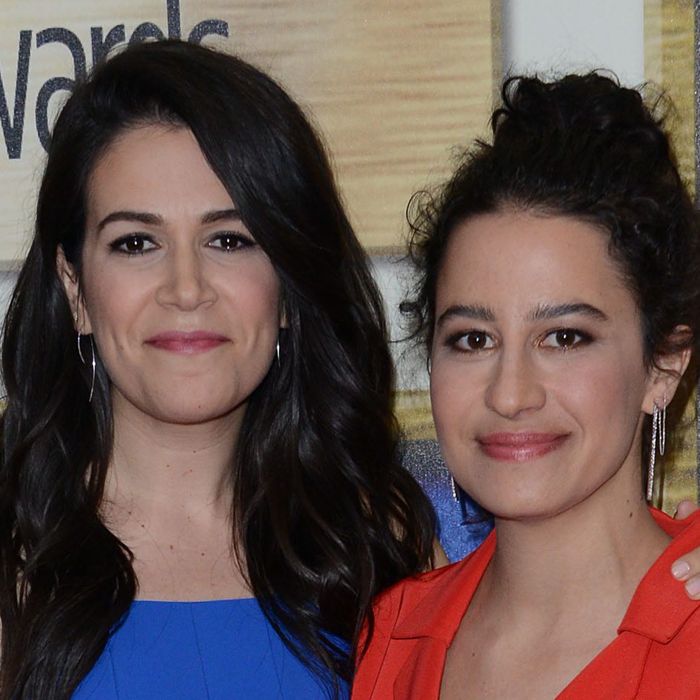 Broad City creators Abbi Jacobson and Ilana Glazer.
Photo: CHRIS DELMAS/AFP/Getty Images
One of the pervasive themes of the 2016 Democratic primary has been Hillary Clinton's inability to attract young women voters to her campaign. Even the support of young feminist stars like Lena Dunham have failed to persuade the millennial contingent away from the Sanders camp. So, what better move than to appear on a show that vibrantly depicts and connects with the lives of those millennial women? In December, Clinton shared a picture of herself on the set of Broad City, filming a guest spot. Show creators Abbi Jacobson and Ilana Glazer spoke at SXSW today and talked about getting the presidential candidate on their show.
The episode, which airs Wednesday, has Ilana becoming involved in the Clinton campaign. In the Q&A portion of the panel, a young woman directed a pointed question at Glazer and Jacobson, asking if the Clinton's appearance was a political statement, since she would have expected their characters to be Bernie Sanders supporters. (Given how young women are overwhelmingly voting for Sanders in the primaries, it's not an odd assumption.) 

The Broad City girls are clearly huge fans of Clinton. A recent appearance on Late Night With Seth Meyers saw both girls fangirling over the former secretary of State ("There was a moment where we both got dizzy"). And after Clinton announced her candidacy for president, Jacobson posted an Instagram of herself holding a Hillary mask captioned "Yes yes y'all! Here we go!!" But despite that enthusiasm, their response to the question was careful to stress that Broad City was not making any political claims.

"I think that we were not trying to make a political statement," explained Jacobson, noting that they had written this season a year ago, long before the campaign even kicked off. They also employed the favored defense, especially of comedians, when politics and entertainment come together, that it's strictly in service of the best quality show. "That's not our show, really — 'Let's make a political stance here.' It's really more that this is something that Ilana's character would do," Jacobson said. "And Hillary, even regardless of where we stand — and we love Hillary — Hillary is such an iconic figure." Glazer agreed with her, noting, "We're trying to make really good TV. I think you'll watch the episode and think you'll agree that it's a great episode of TV."