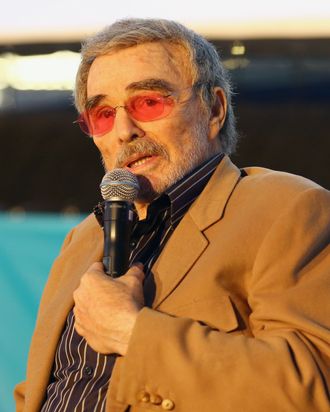 Burt Reynolds. Photo: Diego Donamaria/Getty Images for SXSW
Once upon a time (April 1972), during the Helen Gurley Brown era of Cosmopolitan, Burt Reynolds agreed to do a nude photo shoot under the condition that he wouldn't show too much pubic hair. This was, after all, the first time a dude had gone nude in the mag. But while Reynolds was at SXSW promoting a new documentary, The Bandit, he told an audience that he really regrets that centerfold choice, reports UPROXX.
"It was really stupid. I don't know what I was thinking. Probably, knowing me, it was like, 'you won't do that, you chicken,' or something and I went, 'Well, that's all I had to hear,' of course. I said, 'Yeah, I will.'"
These days, full-frontal male nudity is becoming somewhat of a trend, so maybe 1972 Burt was just a little ahead of the times.