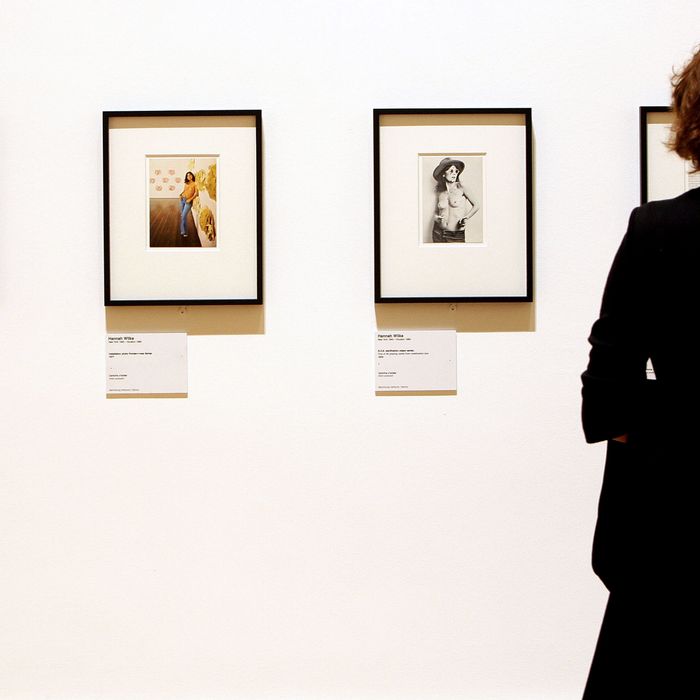 A woman looking at works by Hannah Wilke.
Photo: Franco Origlia/Getty Images
Recently we challenged Hollywood insiders to name five female directors who weren't Ava DuVernay, a task that many found to be strangely difficult. The National Museum of Women in the Arts is asking the same thing today (and the rest of the month) in a tribute to the beginning of Women's History Month. Congratulations to all the women out there for surviving another year in this horrible world. Here's to us. Raise a glass. And while your glass is raised, say a toast to five female artists you love. Wait — you couldn't think of five? Uh-oh.
The National Museum of Women in the Arts (based in D.C., go visit!) has launched the hashtag #5womenartists to find out if people can name five female artists. Can you? What about ten? Twenty? Would you be able to name the same number of female artists as you can male artists? How about naming ten female directors and artists together?
Amy Mannarino, the director of communications and marketing at the NMWA, told the Washington City Paper that she realized people found it harder than they initially thought. "We hope that moment of shock will inspire people to share the challenge and start questioning why the disparity exists and persists." For now, you can happily cheat off of the other arts institutions who have been sharing their favorite female artists to their social-media accounts all day. Write them down and go see their art. Next year, there will be a quiz.