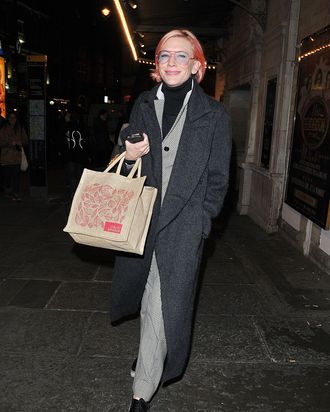 Rocking London's West End.
Photo: Brett D. Cove / Splash News
In her first appearance since the Oscars snubbed Carol, cool punk Cate Blanchett walked through London's West End with new pink hair and matching rose-tinted, blue-lensed aviators. Taking after Grimes and Helen Mirren (who was inspired a few years ago by America's Top Model), Blanchett has apparently (wonderfully) wanted to try it for a long time.
Her hairstylist, Nicola Clarke, told The Telegraph: "We've been talking about doing it for a while but wanted to get all the award seasons out of the way to have a play and a bit of fun. It will last a couple of weeks, depending on how many washes it has." We hope it lasts forever.