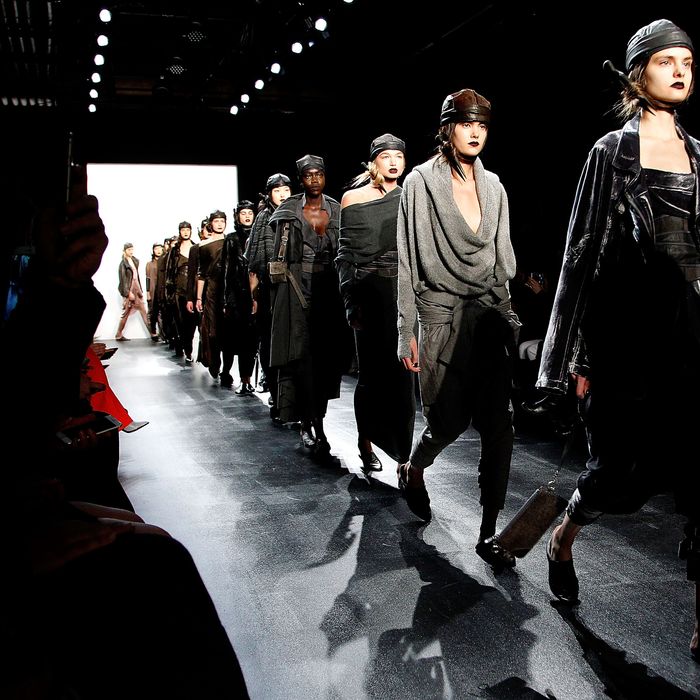 New York Fashion Week might not look like this for long.
Photo: Paul Morigi/WireImage/Getty Images
"Don't Knock New York," the logo sweatshirts at DKNY implored this season. But, in fact, knocking New York — as the site of the most commercial Fashion Week with the most crowded schedule — has been a favorite habit of the fashion set for some time now. Late last year, the CFDA convened the eggheads at the Boston Consulting Group to come up with a plan for the future of the biannual event: Should it shift to a consumer-facing model, as many designers have already been doing with buy-now, wear-now shows? Or should we stick with the status quo? On Thursday, the group released the findings of the study, informed by formal interviews with 50 industry members and informal talks with many others. They concluded: "The unanimous consensus among our interviewees: The time is ripe for change in our market."
The concerns cited by the unnamed interviewees (who include designers, buyers, press, and influencers) will be familiar to anyone who has tuned into this "the fashion system is broken" conversation lately: a lack of newness, customers conditioned to wait for markdowns (or uninterested in the clothes by the time they're in stores), fast-fashion chains producing instantaneous runway knockoffs quicker than you can say "Zalenciaga," and social media creating buzz around collections that won't be in stores for half a year. There were also concerns about designers' psyches, surely informed by Raf Simons's and Alber Elbaz's outspokenness over the past year: worries that talent will burn out from the pressure to create so many collections, and that young designers are under immense pressure to mount costly shows right out of the gate. (It's the reason many labels have been opting for presentations or Instagram-only shows.)
While the CFDA shied away from announcing the shift to consumer shows that some had predicted, it did strongly recommend that brands consider changing their approach, ultimately leaving the decision up to the designers themselves. The study suggested that labels host presentations or appointments for editors or buyers, sans the "bells and whistles" of a runway show, during the current February and September time frames. Then they could follow them up with "in-season events" — which, the report was careful to stress, does not necessarily mean a runway show, but could encompass a party, event, or video — that will get consumers excited about the collection. (What's left unanswered: Since said "in-season events" are bound to be bell-and-whistle-heavy, does this mean that we in the media will have to double our load and cover those, too? It's the kind of thing that makes you want to crawl back under the duvet.)
That's not the only risk associated with these changes. For example, what if shows become too commercial, since they will feature only merchandise that has been sold to stores? PR Consulting co-owner Pierre Rougier told the New York Times that in that scenario, "You are effectively taking the designer out of the center and replacing him with the retailer, and new ideas do not exactly thrive at retail." Many of us don't go to shows simply to see "wearable" clothes, but also to dream. Imagine Hood by Air as an assortment of logo'd basics, without the wild pageantry and invention of the show; or Thom Browne minus the storybook-worthy theatrical elements. These are two shows that help make New York Fashion Week what it is, even if not every element is straightforwardly salable. The CFDA's report didn't offer a clear solution to that problem, but it did suggest what it called "artistic" shows that include a wearable/shoppable capsule of looks — which sounds a bit like what Jeremy Scott has been doing at Moschino for a couple of seasons now, and what Proenza Schouler, Michael Kors, and several others have adopted this season.
The CFDA's openness to change is something to applaud; not every city has been as gung ho. (Paris won't be changing its approach, by the sound of it.) But ultimately, it seems that designers themselves will be making the call. And who do designers take their cues from? Other designers, especially successful ones. So if Burberry, Tom Ford, and the numerous other labels that have already adopted the in-season model succeed with it, droves will follow. For now, we're still in wait-and-see mode: Expect the next few seasons to be a little bumpy as everyone collectively figures it out.