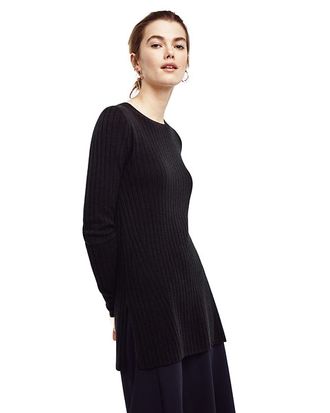 Photo: Courtesy Ann Taylor
Every Monday at the Cut, we're highlighting one great purchase that won't take up your whole paycheck. If you're looking for a splurge instead, check back every Friday for one great purchase that's worth eating ramen noodles for the rest of eternity.
Styling a tunic leaves you with lots of options — is it a top or a dress? Do you wear it over slim pants or jeans? While you ponder the complexities of the tunic, here's a luxe version from Ann Taylor that will take the pain out of getting dressed in the morning. Made out of super-soft ribbed cashmere, it loosely hugs your shape at the top while falling to a loose, flowing hem. Take a cue from the runways and pair it with black culottes and bright lace-up flats, or adopt it as a durable go-to top for coordinating with work suits.
Ann Taylor Ribbed Cashmere Tunic, $198 at Ann Taylor.