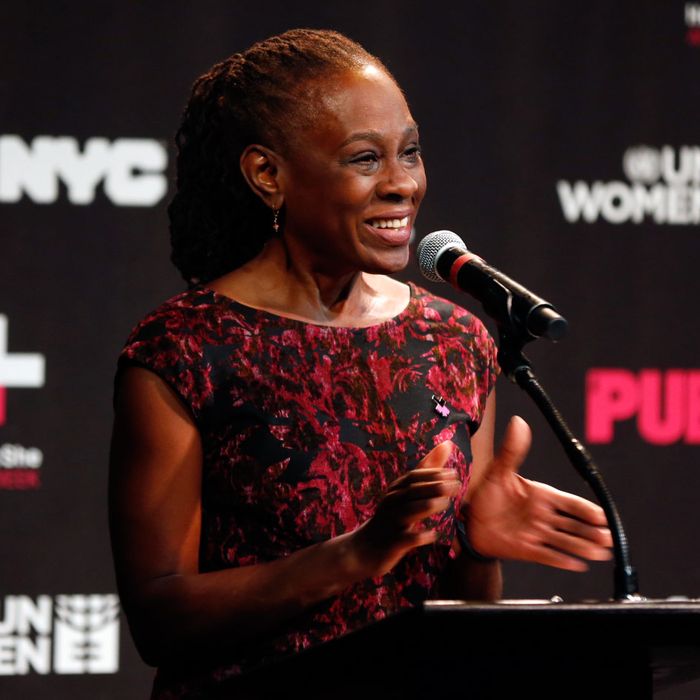 Chirlane McCray speaking about HeForShe Arts Week at the Public Theater.
Photo: Ryan Brown
Onstage at the Public Theater in New York City on Tuesday morning, Emma Watson explained why we need more "active bystanders" in effecting change for gender equality. "When you talk to most women and when you talk to most men, they can name a moment in their lives when they were witness to a moment where a man or a woman was treated unfairly because of their gender," she said. "It just takes someone calling it out and it can be done in lots of different ways."
"It's a daily practice," Watson claims, and one that she herself is committed to: After being named the Global Goodwill Ambassador for U.N. Women in 2014, Watson has taken on a full-time role as an advocate in the U.N.'s HeForShe campaign. And today, alongside NYC's First Lady Chirlane McCray, Under-Secretary-General and Executive Director of U.N. Women Phumzile Mlambo-Ngcuka, UNESCO and U.N. Advocate on the Sustainable Development Goals Forrest Whitaker, and Oskar Eutis, the artistic director of the Public Theater, HeForShe Arts Week had its launch in New York City.
"Awareness alone is not enough," McCray explained. "We are calling for action." The initiative, which was announced on International Women's Day, will see some of NYC's great art institutions highlighting women's arts and donating subsequent partial proceeds to U.N. Women. Chirlane McCray — poet, writer, feminist, advocate for the arts, all long before becoming the wife of New York City mayor Bill de Blasio — spoke to the Cut about why it's so important that NYC be the launching pad for the U.N.'s first focus on bolstering art made by, for, and about women.
Why do you think it's important that women see the arts as a stable career choice in New York City? 
It's hard to point to any industry that is more powerful than the arts in terms of symbol, in terms of representation, in terms of something that immediately captivates the imaginations of people around the world. It's important that women be involved at the highest levels. I think it's very important for women to see [the arts] as a stable career choice: "This is where I can go and grow and be a decision-maker."
In terms of your work with destigmatizing mental health, is there a connection between arts work and the work that you've done [in that field] before?
Absolutely, in so many ways! First of all: In terms of images, art has the ability to change the way we think about something, the way we behave. Art is important for that reason. Giving different types of images and models for people to look at and think about. [Secondly], it's important because it's a coping mechanism for so many, which is why I get very upset when I hear about arts programs being defunded, especially in our schools, because children and young people (all of us really), but especially our children and our young people need arts as a way to cope. To sing a song, it's not possible to sing a song and feel the same way after you've sung the song, or play an instrument. It changes the way you feel inside, it changes how you behave, and the same thing for writing a poem or doing a dance. It has just such amazing power over our emotions.
The third thing is the power of narrative, the ability to sit and tell your story and write what's happened to you. There have been many studies that show how it has such a healing effect. It's shown to also be true for children who have been through traumatic situations, or anyone who has been through trauma, actually. The power of writing one's story, writing the narrative, changes the way one thinks about and how one feels and thinks about what happened.
We need art! It's essential for our growth, our development, even just for moving through life.
From a woman's perspective specifically — as either a woman artist or as a woman who is consuming art — how do you think that also connects? Why do women need art in New York City in order to survive, or feel stable, or feel safe here? 
The world is not a safe place for us yet. That's part of what HeForShe is all about: making the world a safer place for women, making sure there is fairness, that there is equity. Women have to be a part. Women need to use art to show the world that can be. To give us a vision, to help us get there.
After the HeForShe Arts Week has concluded, how will we push that into the future to make sure that the initiative keeps growing and keeps bolstering women to make art in New York City? 
I would like to see a HeForShe Arts Year, myself. Really. I think that we need to create more pathways for movements like that. I think it's really more of a movement. I was part of Art Against Apartheid back in the day and I think that had a tremendous effect on galvanizing people who would not ordinarily be involved in something they thought of as political or racial. It brought everyone in, using their own platforms for change. I think that we could do that with HeForShe. We could get all these men and boys involved who might not think that this is about them, but help them to see that it is really about the world that we live in and [having] women and girls as partners [in it].
Do you think that this initiative will require refocusing energies away from male art or is it going to exist in tandem? 
It definitely will not take away from male art. It's only going to add to the art. It's going to add to the abundance. It's going to help nourish and rejuvenate the art that we see. It will add new perspectives.
What is some art (by women) you've seen in New York City during the years you've been in your position that you feel has invigorated the city?
This is like, "Who are your favorite children?" It's a very tough thing to do. Most recently I saw MotherStruck by Staceyann Chin, a one-woman show. It was very powerful, it really made me think about things. I'm going to see Lupita Nyong'o on Friday in Eclipsed, which I'm really looking forward to. There is so much, there really is. I went to a performance (or should I say a lot of performances) last week in celebration of what would have been Audre Lorde's 82nd birthday. It was incredibly moving. Her words stay with me. There's not a week that goes by where something she's written I don't find relevant to something I'm doing or thinking about. We have so many female artists. We should be elevating and encouraging and supporting them. And it would be a better world if we could just give them the attention and support that they need.
This interview has been condensed and edited.