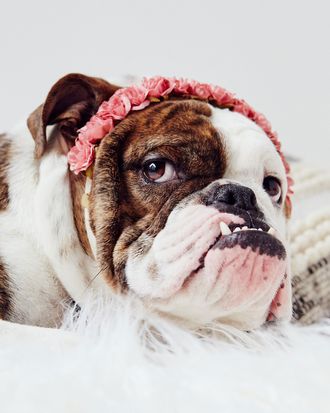 Music-festival ready.
Photo: Free People
The Instagram-orgy-disguised-as-music-festival known as Coachella is on the horizon, and stylish puppies need to get their chic boho looks ready, but lack the opposable thumbs necessary for weaving an awesome flower crown. How will all the French bulldogs grooving to LCD Soundsystem broadcast to the world that they are the freewheeling flower children of the new millennium?
Free People has it covered, with a $78 floral headband perfectly sized for a "free-spirited pup." Choose from roses or daisies, whichever better represents Rover's inner manic pixie music festival dream dog. We know we banned flower crowns from Coachella East, but for daisy-bedecked dogs, we'll make an exception.