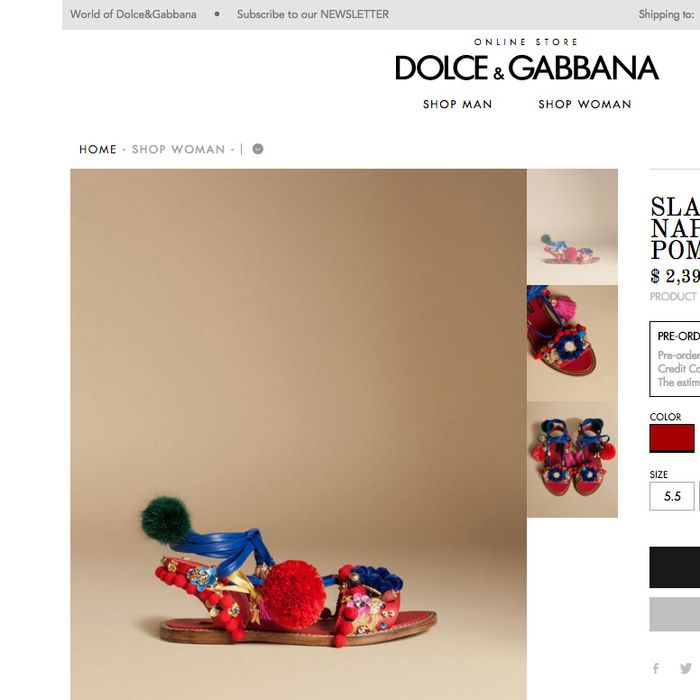 Screenshot from store.dolcegabbana.com
Dolce & Gabbana's colorful spring 2016 collection, which recently hit stores, comes with a few surprises. In fact, for the low price of $2,395 you can own a pair of what they're calling "slave sandals," shoes that will offend your friends with both their racist name and their hideousness.
Other websites selling the sandal know better. Lyst.com identifies the shoe — which looks like a pretty decent children's craft project — as simply "Red Pom-Pom Leather Lace-Up Sandals," though slave is in the URL.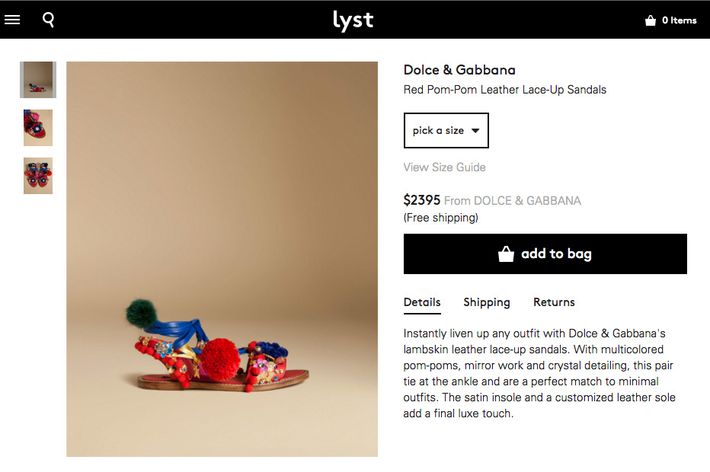 The sandal's description appears to have been penned by someone blissfully unaware of how people will interpret the shoe:
The Spring-Summer 2016 collection is a declaration of love to Italy, told through unique clothing and accessories on an imaginary journey through the wonders of this country. Italia is Love. 
D&G might assert "Italia is love," but they have had a hard time demonstrating that sentiment in their collections. In 2012 they sent down the runway "Blackamoor" earrings, which evoked the minstrel imagery of Aunt Jemima. (Also important to note: There were no black models walking in that show.) And who can forget their comments about how IVF creates "synthetic children"?
It's hard to understand how a company that employs thousands of people didn't have anybody around to point out the inherent offensiveness of "slave sandal," but, alas, here we are.
We reached out to Dolce & Gabbana for comment and will update this story when we hear back.