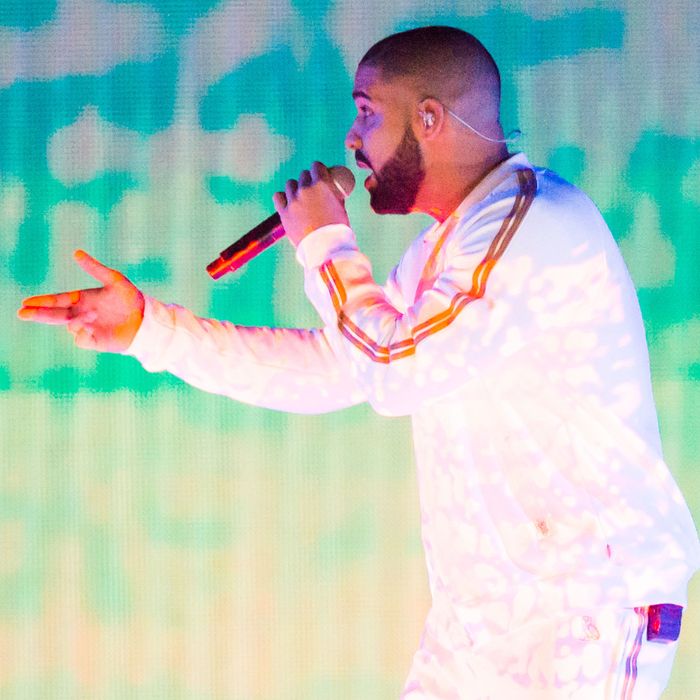 Just stay over there Drake.
Photo: Samir Hussein/Getty Images
As previously chronicled, Drake has spent several years admiring Rihanna's beauty, style, and flair with that look in his eyes. You know the look. It's the same look that one dude friend in your squad is always giving your other friend. Like he's a puppy who knows he shouldn't go for the snacks, but he's been thinking about the snacks for so long, and at this point he's just waiting for the right moment to lunge for the snacks. You really want to say to the dude (and, I guess to the dog), "Dude. You have no chance of succeeding here," but sometimes people just have to learn those lessons for themselves.
It seems that Drake finally learned his lesson last night, during an appearance at the Miami stop of Rihanna's Anti tour. While onstage performing "Work," Drake seemed to remember that he's "Jumpman," for Chrissake, and he did just appear in two sultry videos with Rihanna that took their years-long fruitless flirtations to a whole new level. And so, during the performance, he thought, Now is my time!
And, fueled by adrenaline, a screaming crowd, and his leather pants, he went in for a kiss, as you can see in this Instagram video.
How'd that go for Drake? Well, Rihanna, ever the gracious friend, dipped her head and turned it into a hug, perfectly executing the universal signal for "Nah man, we're just friends, but I promise I won't bring this up tomorrow if you won't." Drake, to his credit seems unfazed. He is prepared to start the cycle anew.