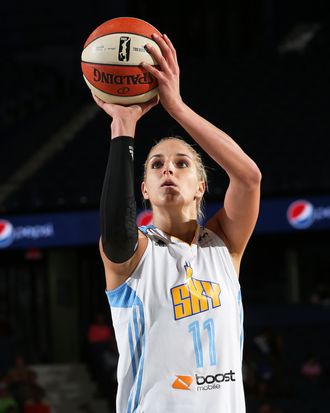 Elena Delle Donne.
Photo: Gary Dineen/Getty Images
Elena Delle Donne, a six-foot-five forward for the WNBA's Chicago Sky, was named Rookie of the Year in 2013 and MVP just two years later. The powerhouse athlete can play four different positions, and last season she hit a staggering 95 percent of her free throws, becoming only the fourth player in history — male or female — to do so. Delle Donne has been called the face of the WNBA and compared to LeBron James, Carmelo Anthony, and Kevin Durant. And though there are plenty of fans on Twitter begging her to suit up for the lackluster Chicago Bulls, her mentions are still unfortunately littered with sexist comments from men saying they only watch her play because she's hot, helpfully informing her that she can "get it," or wondering why she's not in the kitchen.
Delle Donne has spoken out on this sort of idiocy before (see this Kimmel-esque "Mean Tweets" video), but at the recent espnW Impact 25 Gala honoring athletes and influencers who had the greatest impact on women in sports last year, the Cut asked her to elaborate on the sexism facing female athletes.
"I just can't wait for the day where people want to talk about your skills on the court and not your looks. I wonder how many times a Tom Brady is asked about how handsome he is, or a J.J. Watt," she said. "It's something that us female athletes have to deal with all the time."
"It needs to be talked about because it's there, but for some reason it's not really spoken about that much. The men … they do get trolled, but it's just always following us."
And the comments are different — people trash-talking male athletes aren't telling them to wear less clothing or to worry about domestic duties. Delle Donne believes that increased coverage will help the public realize that female athletes are not here for you to ogle or demean. They are here to compete.
"I think the best way [to change it] is continuing visibility and getting eyes on our game and the product that we put out there. That's the biggest way to get people to speak about the game and our talents, instead of always just being like, 'Oh, a female basketball player … ' I'm a basketball player. It's funny how they always have to add that; they don't say 'male basketball player.' There are certain things in the media that hopefully one day will change." Amen, Elena, amen.