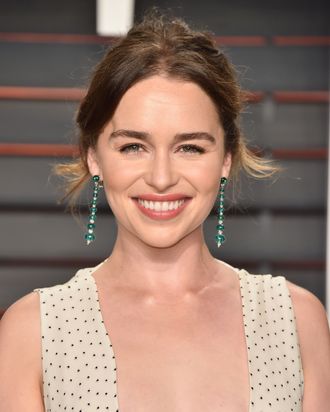 Emilia Clarke.
Photo: Pascal Le Segretain/Getty Images
Ever since its premiere, Game of Thrones has been the target of criticism and complaints about its treatment of women. HBO's high-fantasy epic has gotten a lot of flack for its liberal use of graphic scenes of sexual violence and rape as a plot device. But despite this, Mother of Dragons Emilia Clarke doesn't want to hear your claims that the show is sexist.
"It pains me to hear people taking Thrones out of context with anti-feminist spin — because you can't do that about this show. It shows the range that happens to women, and ultimately shows women are not only equal, but have a lot of strength," she told Entertainment Weekly. "There are women depicted as sexual tools, women who have zero rights, women who are queens but only to a man, and then there are women who are literally unstoppable and as powerful as you can possibly imagine."
She also expressed her annoyance with regularly being asked about nudity and sex scenes on the show. "How many times has [Daario actor Michiel Huisman] been asked about the fact he's taken his clothes off a bunch?" she asked. "Is that even a discussion? No." Emilia Clarke is raising an important point: Women should not be the sole focus of questions about sex and nudity, and we need much more discussion about Michiel Huisman taking his clothes off. Or possibly just more opportunities to ogle his butt. For feminism!