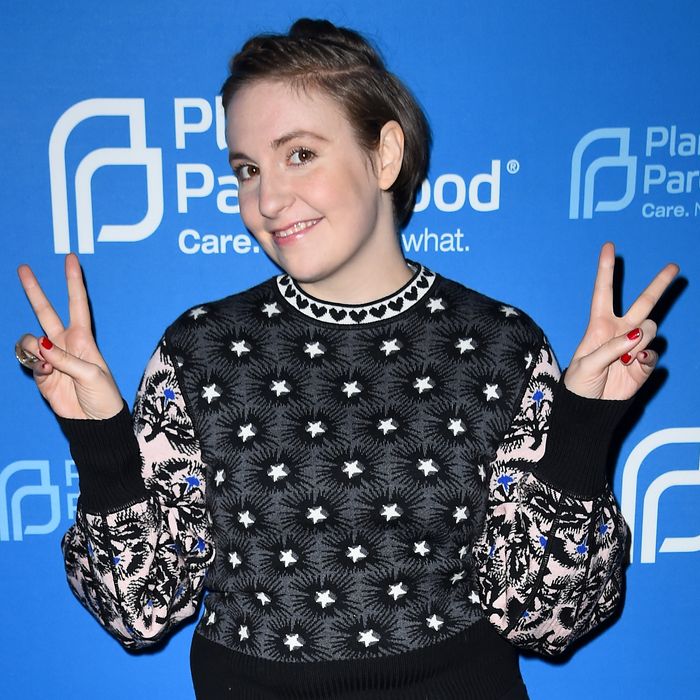 Lena Dunham, millennial. Photo by Nicholas Hunt/Getty Images
It's time to catch those millennials. EMILY's List is teaming up with Hillary Clinton champion Lena Dunham in an effort to gain the attention and votes of millennials not yet in the HRC camp, the Hill reports.
This new partnership coincides with the launch of Creative Council, which aims to reach crucial supporters for Clinton.
In a statement on the EMILY's List website, the organization's president, Stephanie Schriock, said they have been reaching out to women from circles that might help "disrupt a boys' club," mostly in "non-political industries."
Dunham, a fervent Hillary supporter, is a co-chair of the committee (which also features Dunham's mother, Laurie Simmons, Shonda Rhimes, Uzo Aduba, and more), said this initiative is crucial to getting more necessary votes in Hill's court:
EMILY's List has a mission that young women really get. When women lead, we get better, saner laws for women and men everywhere. It's time to harness our enthusiasm and our expertise to get that message out before November. It's about the courts, it's about Congress, it's about our health and our economic stability and our future. Young women are some of the most motivated people I know – we're going to turn them into an army of motivated voters over the next eight months.
Well, they've got a pretty target millennial onboard; it's time to see how many others flock to Team Clinton.