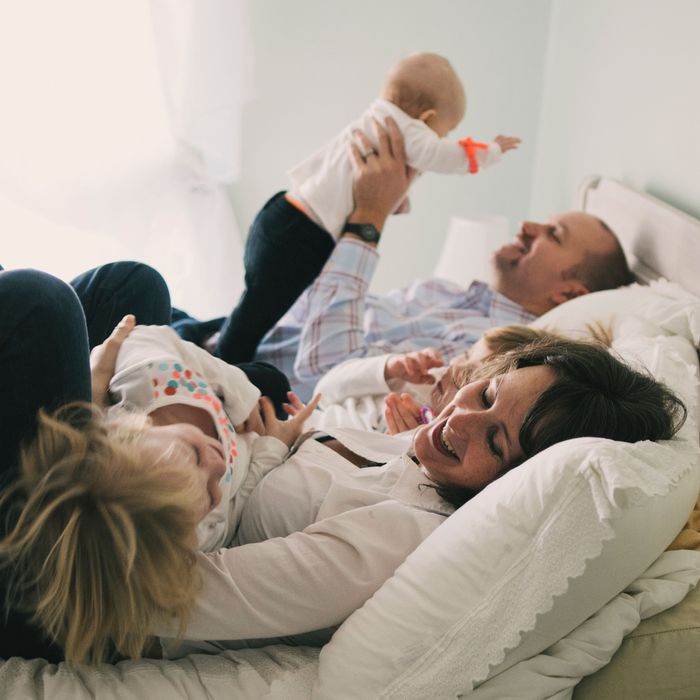 Family
Photo: Shestock/Blend Images/Getty Images
Etsy has announced that its new parental-leave policy will now give employees a full six months of paid time off following the birth, adoption, or surrogacy of a new child.
The company, which employs 819 people and is headquartered in Brooklyn, New York, will begin offering the new coverage in April, which it announced Tuesday morning in a blog post by Juliet Gorman, Etsy's director of culture and engagement. Significantly, the 26-week leave will cover employees regardless of gender, family circumstance, and country of residence. Many companies' leave policies follow governmental guidance by country, so Etsy's international employees (the company has ten offices worldwide) will benefit from the company-wide policy changes. While Etsy will require that eight of the weeks be taken consecutively in the first six months of the child's life, the rest can be taken piecemeal over the course of a two-year period.
Etsy joins a growing number of companies that are finally supporting family-leave policies that are actually livable. Other companies that have instituted generous leave policies include Netflix, Microsoft, Adobe, Google, and Facebook, all of which are trying to make up for the lack of support the federal government has shown for any mandated leave policy.
Etsy seems committed, as well, to encouraging its employees to take advantage of the new leave policies, which has been a problem in the past, especially for fathers. Mark Zuckerberg, the CEO of Facebook, has been widely applauded for taking two months off following the birth of his daughter. Etsy published additional remarks — "5 Facts That Support Gender-Blind Parental Leave" — on Medium this morning to further explain how its new policies have been designed to be "flexible, gender-neutral, and to counteract unconscious bias." Fifty-four percent of Etsy's employees identify as female.