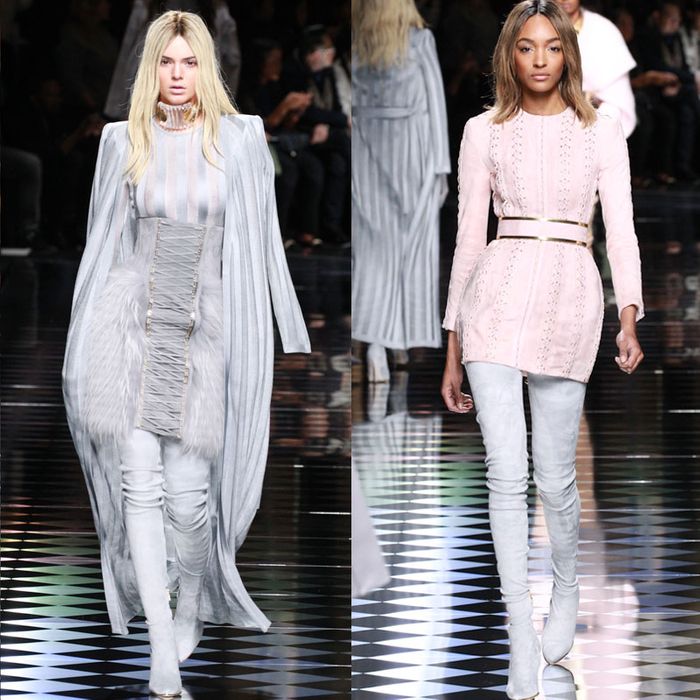 Here's one way to ensure your show makes worldwide headlines: Take one Insta-famous supermodel, apply some peroxide (or a platinum wig) and let nature take its course. A newly blonde Kendall Jenner opened and closed the Balmain show today, and based on social media's reaction, it seems the world will never be the same.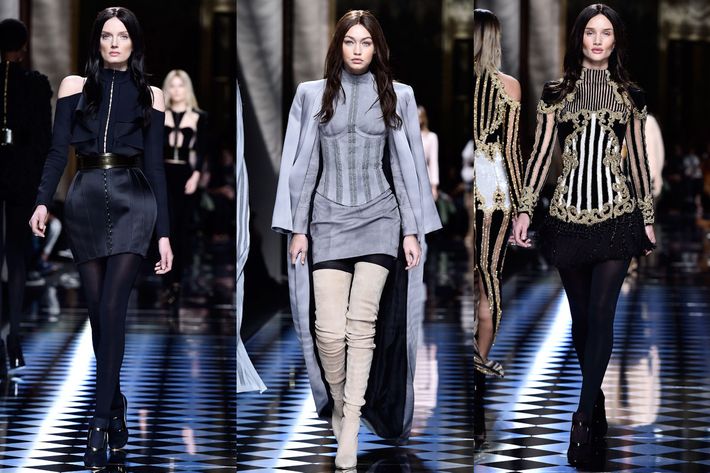 It wasn't the only beauty transformation on today's runway. Rousteing took a page from the Cut's "Hair Swap" feature, rendering Gigi Hadid brunette, and sending Lily Donaldson, Rosie Huntington-Whiteley, Lindsey Wixson, and Devon Windsor to the dark side as well.
In a fancy touch, Rousteing had an old-school orchestra playing the soundtrack. But the music choices themselves were much more recent — including two tracks by Y2K faves Savage Garden. Hey, we already knew Rousteing was truly, madly, deeply into '00s pop: He did, after all, lip-sync flawlessly to the Backsteet Boys at his H&M collaboration show.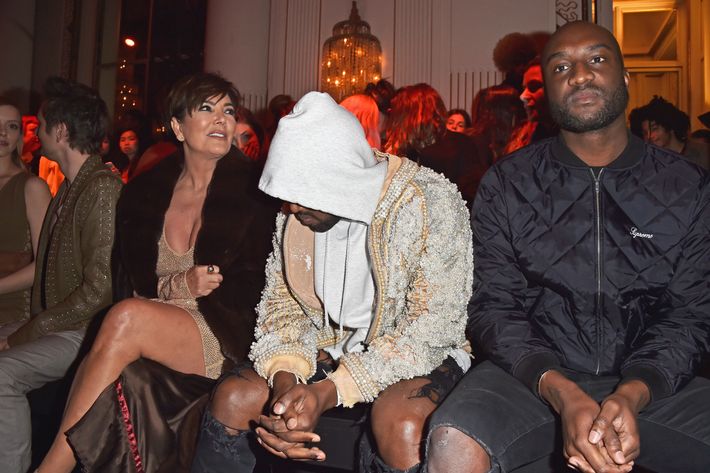 Kanye West was doing his best "don't look at me" pose in the front row, somewhat undercut by the fact that he was wearing a sparkling pearl hoodie he collaborated with Rousteing on. Nice of him to support a fellow designer. Kim was nowhere in sight, but Kris Jenner was seated right next to the rapper, although she seemed more accommodating to the flashbulbs.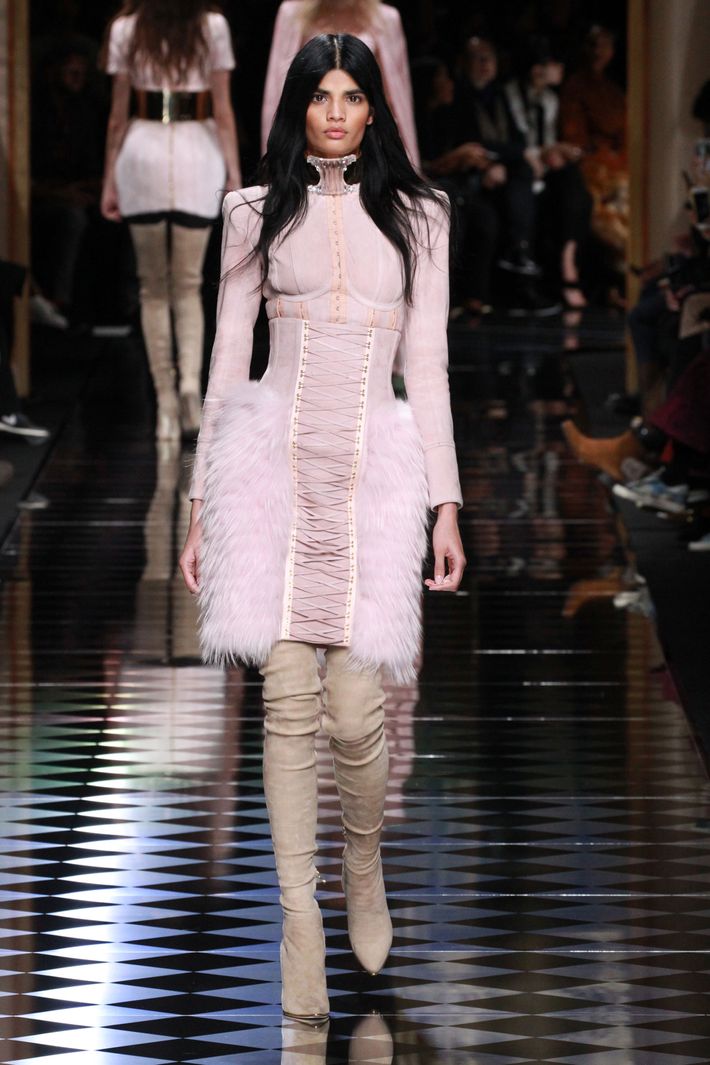 Oh right, the clothes. Rousteing stuck to his sexy, power-woman '80s DNA: massive metallic belts, OTK boots, and corseting details.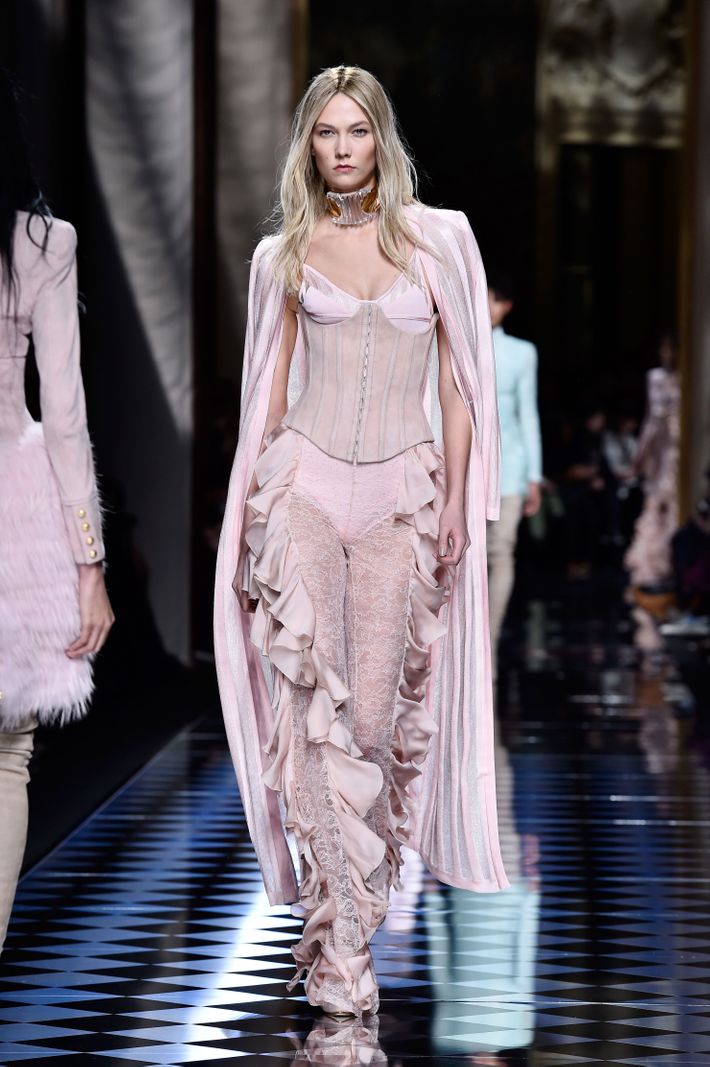 Pastels have been having a moment this Fashion Month (see also: Versace) and the designer chose sweet shades of pink and blue that softened his glamazon silhouettes. He also showed off a soft spot for ruffles and lace — for example, on this ultragirly look on Karlie Kloss.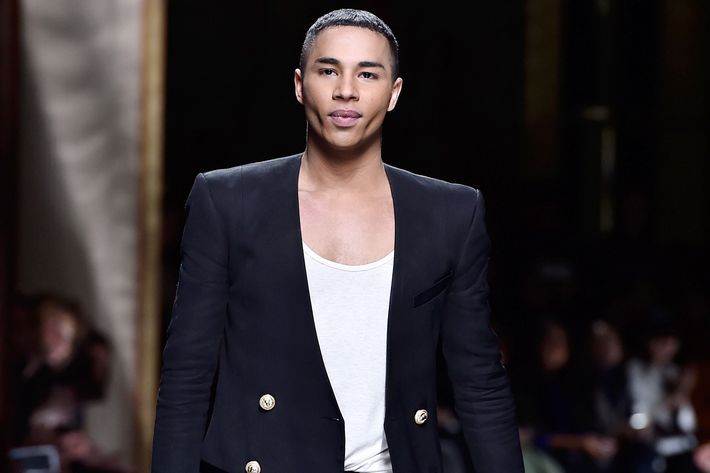 Unlike the vast majority of his male designer peers (ahem), Rousteing still has some swagger when it comes to his show-day outfits. He took his bow in an expertly half-tucked T-shirt, a classic double-breasted blazer, and slim black pants.