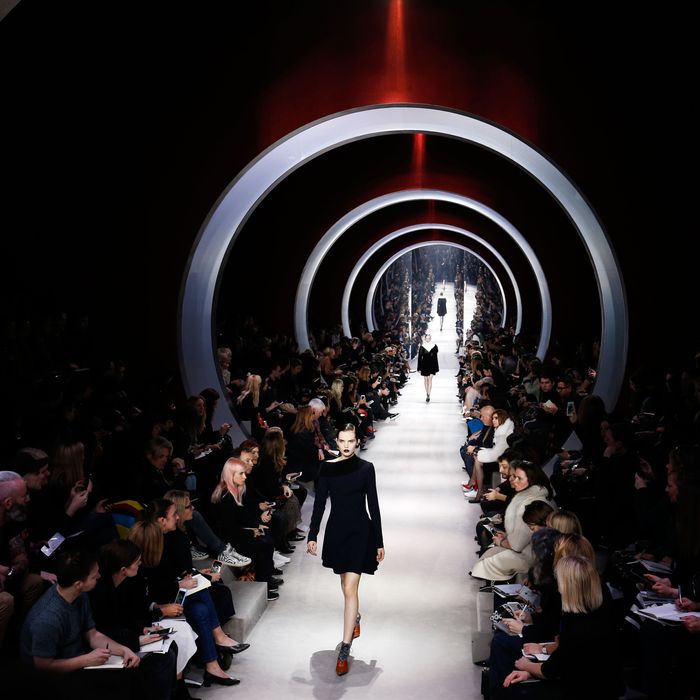 Dior, or 2001: A Space Odyssey?
Photo: Francios Guillot/Getty Images
The Dior show today in Paris had a Space Age vibe — at least when it came to the set. Outside the Cour Carrée du Louvre, the house set up its customary mirrored installation — which apparently took 18 days to set up. But inside the show space, everything was 2001: A Space Odyssey–style futuristic, with a mirrored concentric-circle design that was the brainchild of Bureau de Betak.
House face Jennifer Lawrence was not in attendance, but Rosamund Pike and Jessica Alba both made front-row cameos.
The models sported wine-dark lips, and one of our favorite runway beauty trends this season, intentionally clumpy lashes. Both came courtesy of makeup artist Peter Phillips. (Side note: Accessories-wise, it's always nice to see options for girls with multiple piercings on the runway.)
Kendall Jenner, newly restored to brunette, walked the show, marking her Dior debut.
The collection — which has been designed by a team since Raf Simons's departure last year — was print-heavy, with ornate paisleys and lots of mixed patterns.
But sometimes you just need a classic white coat with a twist, and the show's closer was just that.
And the house debuted a new sunglasses style, the follow-up to the hit So Real shades: These were a mix of tortoiseshell and floral that looked great on Lineisy Montero.