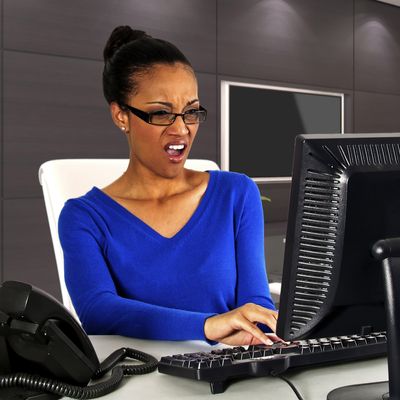 "Ugh! An offensive meme!"
Photo: Innovated Captures/Getty Images
Ha ha ha hell is real and we're living in it and Trump might become president and now we've got something called Facebook at Work.
The inevitable brainchild of a Silicon Valley intent on making our working hours practically indistinguishable from the ones we should reserve for Much-Needed Downtime, Facebook at Work is the same as the Facebook we all know and hate, but recreated as a shell for internal communication (à la Slack or HipChat). The promotional video for Facebook at Work is narrated by a man with an English accent, so you know the intended audience is "cool people" with "cool jobs." Women with bobs and loafers walk around an office littered with sketches and designs; awards are won; video chats are initiated; there is a healthy dose of design rhetoric in messages and status updates. This is an office for Creatives who use Facebook at Work as a resource to help them make cooler stuff.
While I hate to be cruel to the sensitive geniuses behind Facebook at Work, this office ("Fox Fabrics, LTD") is a soft-boiled utopia compared to what most companies look like. Nonintrusive pinging and statuses announcing hearty congratulations to the entire team for winning design awards are events reserved for the imagination of Silicon Valley, where people are just barely human and mindfulness is a way of life. If Facebook at Work were to actually take hold in real corporate culture, your feed will be more Reddit, less Shangri-La. Here's a peek at what it'll actually look like.
Photos of Various Dogs and Cats and the Occasional Hamster From a Woman Named Janine
Without warning or reason (perhaps a method to forestall collective sadness?), colleagues will share photos of their dogs and cats doing cute tricks like cuddling, sitting, walking, and sleeping. These photos will get the most likes and inane comments, hands down. Janine — does anyone even know what she does, by the way? — will post a photo of her hamster eating a tiny piece of celery at least once a day. No one will like it. No one will comment. We'll all wonder what the deal is with Janine and her hamster.
That One Person Who Is Always Trying to Get Everyone Together for a Pub Quiz
Guys! This great bar in the neighborhood (I'm serious— it's only three blocks or a four-minute walk from here, according to Google Maps) has an amazing pub quiz every Thursday night. Draft beers are two dollars off all night and ladies get free pinot refills [Shannon, I'm looking at you, you lush ;).] Who here knows a bunch of meaningless stuff about old Seinfeld episodes? Sign up on my Google spreadsheet below, if you're in. We need 16 people to form a team, so IT'S ON YOU if you choose to ignore this status again!!
[Tags every living person who has ever worked at the company, every week.]
HR Reminders
If you're reading this and you have not submitted the necessary forms for open enrollment, you have until MARCH 10, 2016. That is your FINAL DEADLINE. Please SUBMIT YOUR FORMS or you will be left without health insurance for the rest of your life. No takebacks. SUBMIT YOUR FORMS.
Once again, the deadline is March 10, 2016. SUBMIT YOUR FORMS. Please comment below if you have questions.
[Several hundred questions follow.]
WHO STOLE MY MUG  
I'M GOING TO HAVE TO ASK YOU ALL AGAIN: WHOEVER STOLE MY MUG, PLEASE COME FORWARD. I WILL NOT BE SILENCED ABOUT MY MUG.
I LOVED THAT MUG, AND NOW IT IS GONE. IF YOU ARE THE CULPRIT, YOU WILL NOT BE PUNISHED. I JUST WANT THE MUG BACK. SET UP A BURNER EMAIL AND TELL ME WHO HAS MY MUG. I HATE TO BE THE BAD GUY HERE, BUT COME ON. HAVEN'T YOU EVER LOVED SOMETHING?
The Public Unveiling of Your Close Work Friend's Heinous Political Beliefs
It's the kind of thing that happens when you least expect it, and it will leave you more heartbroken than if your boyfriend admitted a fetish you cannot possibly abide: Your close work friend will come out as a Trump supporter. An innocent post about free cake in the kitchen turns into a little ribbing about what "Bernie's socialist America" is going to look like, and a few LOLs later, Andrew is saying that he really doesn't think any of that is funny, that we should try to protect ourselves from "impractical hippie politics" and that we "need to make America great again" and oh god what is happening. Andrew, I thought we really knew each other? Avoid him until he is fired for stealing office supplies to print Trump campaign posters.
Simply Putting a Name to a Face (a.k.a. Thoroughly Stalking the Facebook at Work Database to Find That One Girl You Think Is Cute)
I see that girl in the office everywhere. All I'm doing is trying to figure out who she is, no reason at all, man. I'm just going to shoot her an email with my name just so she also knows who I am. There's nothing wrong with that, get off my back! Oh, and so what I also put my phone number in there and a picture of a gourmet steak that I bought and a list of my top 15 favorite Eagles songs. Of course that isn't weird, man! That's how you make friends at work. She's really gonna dig it, I can tell.