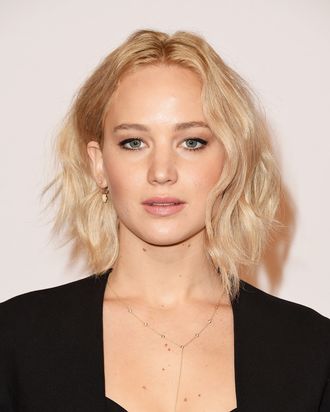 Jennifer Lawrence, one of the high-profile victims of "The Fappening."
Photo: Steve Granitz/WireImage
A 36-year-old man from Lancaster, Pennsylvania, has agreed to sign a plea deal implicating himself in "The Fappening," 2014's nude-celebrity-photo hacking incident. Ryan Collins will plead guilty to one count of felony computer hacking and another for unauthorized access to a protected computer to obtain information for his role in the hack.
According to the plea document, Collins was responsible for hacking into more than 100 Apple iCloud and Gmail accounts, 18 of which belonged to celebrities, using a phishing scam. The personal photos, many of which contained nudity, were promptly leaked all over the internet, even earning their own controversial subreddit that was shut down — eventually.
"It is not a scandal. It is a sex crime," Jennifer Lawrence, one of the hacking victims, told Vanity Fair in 2014. "It is a sexual violation. It's disgusting. The law needs to be changed, and we need to change."
Collins probably didn't act alone — news reports identify him as "one of the people" behind the hack. In October, the FBI seized computer equipment from the Chicago home of Emilio Herrera, but no official charges have been brought against him.