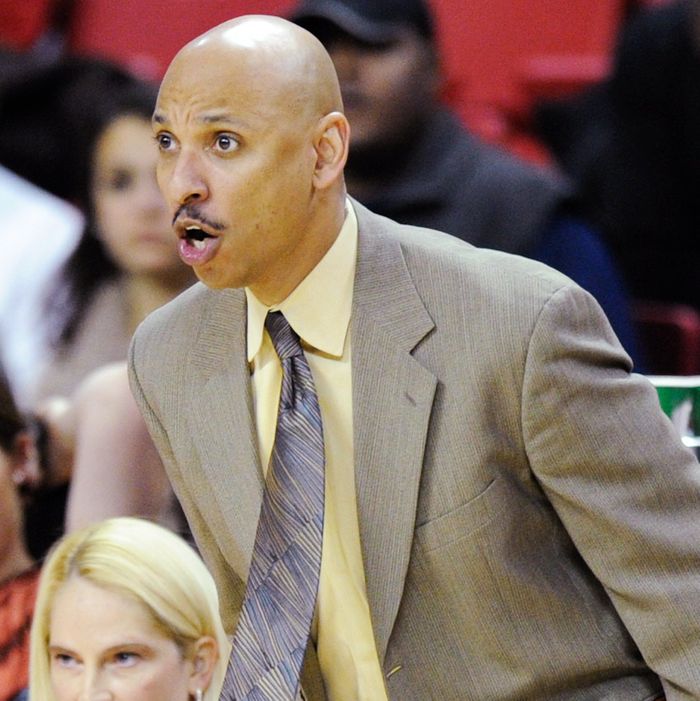 Marlin Chinn on the basketball court.
Photo: John Middlebrook/Corbis
The captain of Florida International University's women's basketball team, 21-year-old Destini Feagin, has reported coach Marlin Chinn to her university's athletics administration, alleging that he pursued a sexual relationship with her for the entirety of the season. Chinn has since been suspended pending a university investigation of Feagin's claims.
Feagin brought her story to the Miami Herald, which published a bombshell report about the allegations on Wednesday morning. Chinn, who has been on the job as the head coach of the FIU women's basketball team for one year, had reportedly removed Feagin from the annual Senior Night ceremony after she took her claims against Chinn to the FIU administration late last Thursday night. Chinn claimed to the Herald at the time that Feagin had been suspended for being in "violation of team policy": Using another teammate's food card when hers was out of money.
But Feagin and her mother, Joi Nicholson, claim that the captain was suspended four games because she had denied the sexual advances of her coach, which began right after he joined the team last year. Feagin told the Herald, "I noticed he had a sexual attraction for me when he started saying perverted things to me." She continued, saying that he would comment "on my looks, my body, frame, my breasts, my behind. The way I smile. He would go into detail what his sexual thoughts were. He didn't come out and say what his intentions were at first, but he gave me hints. He said little things that alerted me. Then, he came out and told me how he felt about me."
In December, Feagin needed to pay off a $500 debt to the school in order to register for classes, and despite it being an NCAA violation to do so, Chinn removed $600 cash from an ATM for Feagin to pay it off. When Feagin expressed her gratitude, he reportedly told her, "'You will pay me back. In other ways.' He said that six times. It's vivid in my head." Feagin showed text messages that Chinn had sent her to the Herald, saying things like, "want you to have so much more to offer ANYONE that wants to be a part of u after they get pass how good ur face and body looks!!!"
Chinn even allegedly came on to Feagin in front of her assistant coaches. "At that point, I knew, these coaches know. They have to know. Maybe they'll say something to help stop the situation. I felt powerless. I felt like I couldn't tell anybody because he would use basketball against me. And he knew how much I wanted to play."
The university's investigation is under way.