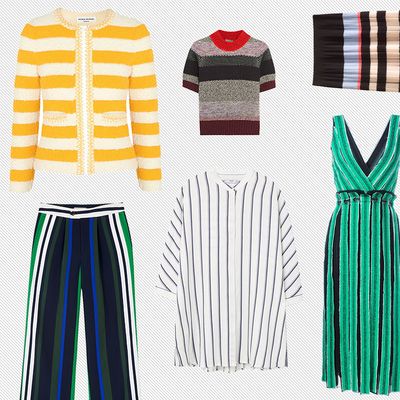 Photo: Courtesy of the Vendors
Bright, colorful stripes might just be the embodiment of spring. They're an easy way to mix up the basics you're already wearing while reflecting the extra sunshine of spring colors. Plus, they're a popular choice: They were all over the runways this season. If you're shopping for transitional pieces you can wear while you're waiting for it to warm up — jackets, maxi skirts, and light sweaters — look for pieces with personality that bring you joy. Keep scrolling to find inspiration on how to wear stripes that go beyond your basic nautical themes.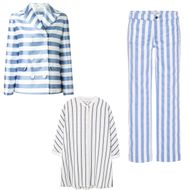 Blue stripes in spring can make you think of waves, sailor shirts, and vacation season. For East Coast preppies, there's always the traditional blue seersucker print. But if you want something a little different, look for a spring jacket or pants in refreshing candy-cane stripes. If you just want a comfortable shirt that's not your basic white top, here's an oversized baseball shirt to pair with jeans or tuck into a deep-blue midi skirt.
Vivetta striped blazer, $480 at Farfetch. Oversize stripe shirt, $70 at Mango. Seafarer striped jeans, $305 at Moda Operandi.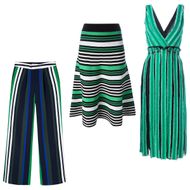 Dark stripes with alternating panels of colors are attractive options if you're not used to wearing neon colors on a daily basis. Pair them with a black sweater and a pair of heels and you're good to go. Though this frayed dress from Proenza Schouler is definitely not a budget item, it's dreamy inspiration for trying out a stripy fringe hem when temperatures start heating up.

Multistripe wide leg pant, $98 at Banana Republic. P.A.R.O.S.H. striped midi skirt, $264 at Farfetch. Proenza Schouler frayed stripe midi dress, $1,850 at Neiman Marcus.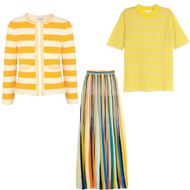 Wearing golden rays for spring is like adding a dose of vitamin D to your wardrobe: much-needed treatment for the city-dwellers used to wearing all-black. H&M is an easy place to start shopping for some stripy knits, like this sunny yellow vintage-esque T-shirt. Sonia Rykiel's resort collection is full of vibrant stripes, but her blazers are an extra-fun way to top off a pair of wide-leg jeans. And if you prefer your stripes on a biblical scale, look for a Technicolor-dream skirt like this one from Missoni to wear with some colorful earrings.

Sonia Rykiel striped bouclé-knit jacket, $1,610 at Net-a-Porter. Fine-knit top, $35 at H&M. Missoni crochet-knit maxi skirt, $1,795 at Neiman Marcus.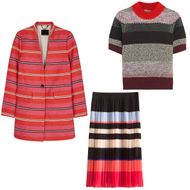 Since everyone was bundled up during Fashion Month, the street style was all about the crazy jacket. To make your commute feel a bit more like Milan, try a bright striped jacket like this one with some cropped pants and flats. For other punchier options to wear at work (if you work in a less conservative office), try a loud pleated skirt, or wear a colorful cropped sweater to dress up a drab pencil skirt.

Stripe collarless coat, $248 at Banana Republic. Punch stripe pleated skirt, $129 at Ann Taylor. Bottega Veneta cropped striped sweater, $1,100 at Net-a-Porter.