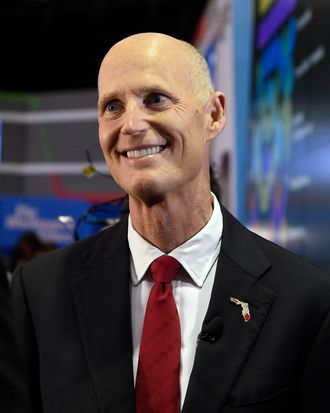 Florida Governor Rick Scott
Photo: Rhona Wise/AFP/Getty Images
It's the terrible craze that's sweeping the nation. Florida is the latest state to effectively defund Planned Parenthood and enact stricter regulations on abortion providers. Last night, Governor Rick Scott signed a slew of bills, among which further strangled state payments to women's healthcare centers that also provide abortions.
Florida had already cut off any state funding for actual abortions, so this law went after preventive care provided by abortion-performing organizations. Essentially this means women who need things like cancer screenings, pap smears, and birth control cannot seek it from providers like Planned Parenthood, which says it serves 67,000 women in Florida each year. During discussion of the bill in the state senate, the law's proponents provided a list of alternative places Florida women could seek providers, most of which turned out to be medical professionals, like dentists, who had no particular expertise with women's health. The bill also demands abortion clinics receive annual inspections and requires any doctors providing abortions to have admitting privileges at a local hospital, a provision which is reminiscent of the Texas law that was recently challenged before the Supreme Court.
Among the 67 bills Scott signed was also one that expanded the availability of medical marijuana for terminal patients. In one evening, Florida has made it easier to get pot and harder to get pap smears. We laugh because it hurts.