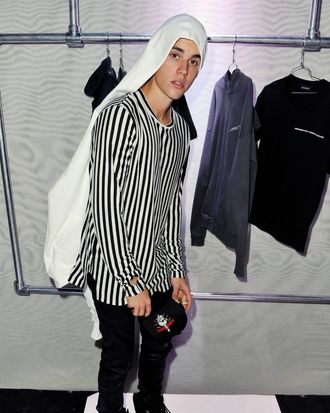 The man, the myth, the legend Justin Bieber.
Photo: Jerod Harris/Getty Images
Justin Bieber — Slenderman if the legend of Slenderman were about a teenager who moored a yacht full of Monster Energy drinks to a dock in Tampa Bay — launched his worldwide Purpose tour in Seattle today. While many of us will be attending but telling our friends that we're "at a night-time baby shower," our lies will fall apart once we snatch up all the new Justin Bieber gear that was recently unveiled. It is exactly what you'd expect from the baby-faced vape cloud.
There are Yeezy influences, callouts to the nation of fuckboy, the classic Thrasher typeface, and, of course, Bieber's beloved camouflage. Unfortunately, there is no Bieber-branded skateboard to ride ineptly into the Calabasas sunset — but the tour has only just begun.