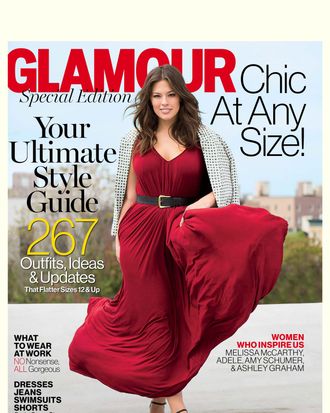 Ashley Graham on the cover of Glamour
Whether or not you agree that "plus-size" is a fair label for women who wear sizes 12 and up, Lane Bryant, which embraces the term, has teamed up with Glamour to create a fashion collection, two special-edition magazines, video content, and advertising, according to Women's Wear Daily. It's a smart move considering  plus-size fashion amounts to something north of a $25 billion industry.
The first special issue features Sports Illustrated swimsuit-edition alum Ashley Graham, wearing an airy red dress. The 96-page issue hits newsstands and select Lane Bryant stores today, for the confounding price of $12.99 — over twice as much as a standard issue. With stores already sticking higher price tags on plus-size clothing, the number seems a bit over the top.
Perhaps Lane Bryant CEO Linda Heasley could learn from her own words when announcing the collaboration: "The reality is this woman wants what other women in American want. She wants fashion … she wants to be beautiful with no judgment."