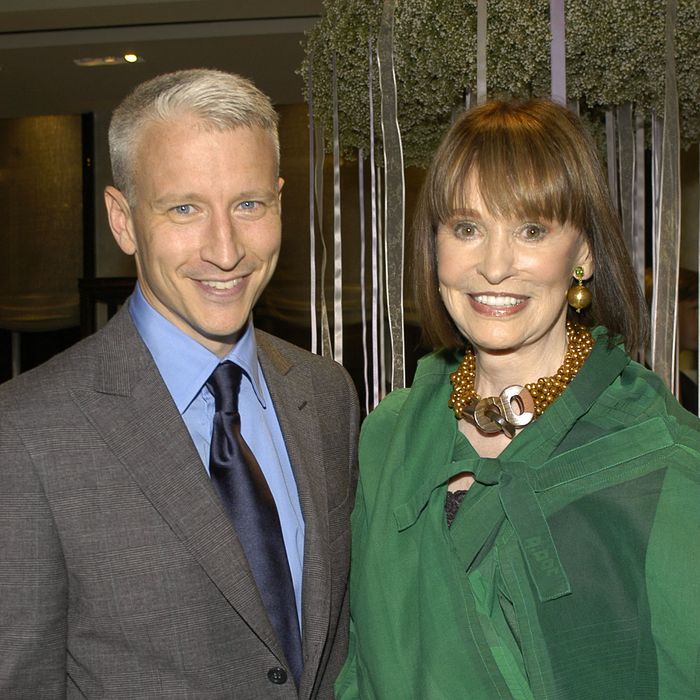 Anderson Cooper and Gloria Vanderbilt.
Heiress Gloria Vanderbilt seems to be living 92 exactly the way she should — calmly and casually whipping out old stories to surprise her famous offspring. In a People interview for Vanderbilt and son Anderson Cooper's upcoming book, The Rainbow Comes and Goes: A Mother and Son Talk About Life, Love, and Loss, Vanderbilt revealed that, oh yeah, once she was romantically involved with another girl at Miss Porter's School in Farmington, Connecticut.
Cue Anderson's obvious surprise and tiny blush and giggle: "Wait, hello? This is news to me. You didn't put this in the book, Mom."
Sometimes, Anderson, our moms have past lives we don't know about. Sometimes, 80 or so years later, they recall a relationship with a girl named Cynthia at private school and confidently say, "It felt so great; it felt so good."
Yes, Anderson, your mom might appear cavalier when delivering this news, but it is, in fact, an absolutely bad-ass delivery, not unlike that of Mallory Ortberg's fantasy "late-in-life" lesbian Emily Gilmore. "We all did." Total gold. 
"Now, we realize there is no difference," Vanderbilt concludes her story. "I mean, love is love. It's what it is; it's great." Anderson, now beaming at his progressive mom, certainly won't argue with that.