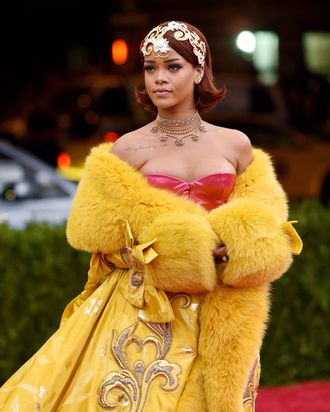 Who?
Photo: Dimitrios Kambouris/Getty Images
Chinese couturier Guo Pei — best known for creating Rihanna's canary-yellow ensemble for last year's Met Ball — has just gotten The New Yorker treatment. In a profile in the latest issue of the magazine, the designer admits that this time last year she had never heard of Rihanna. (Her muse is 84-year-old model Carmen Dell'Orefice.) "And I don't like lending big things to celebrities," she added. Still, that red-carpet moment catapulted the designer to global fame, and probably contributed to her getting a spot on the official Paris couture schedule for the first time this past January.
But Guo is focused on loyal customers, not on celebrities. "Changing your look every season to please a fickle customer isn't how I work," she told the magazine. "I aim to create heirlooms that a woman can pass down." Guo's business is founded on deep-pocketed returning customers, so much so that it's set up with a membership structure, with customers in the top tier paying about $800,000 annually.
She's been incredibly successful in image-conscious China, but Guo's critics say that her ornate, old-fashioned aesthetic is pushing a retrograde vision of womanhood. "I'm not a feminist," she said in response to some of those critiques. "I think women should be like water: it looks soft and tender, but it's very powerful."