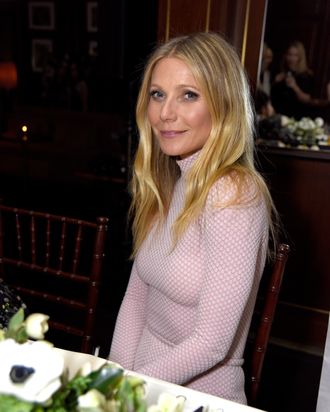 Gwyneth Paltrow. Photo: Jeff Vespa/Getty Images for The Hollywood Reporter
Gwyneth Paltrow gets that being a woman in business is no easy task. She's given up what she refers to as a "perfectly reasonable" acting career to keep things running full-time at Goop.
Gwyneth told an audience at the Marie Claire Power Trip conference in San Francisco that when women decide to do something drastic — like change their career to pursue something new (gasp!) — people get uncomfortable.
"I think it's really challenging being a woman in business, period. I think that we face an uphill battle just when we walk in. I think it's just a fact of life … I think people really like you how they know you, and I think it's challenging for a woman to kind of shift her shape and especially to do something that's provocative."
Here's to shape-shifter Gwyneth and every other women in pursuit of achieving all the things and smashing the patriarchy.
Reported by Dayna Evans.