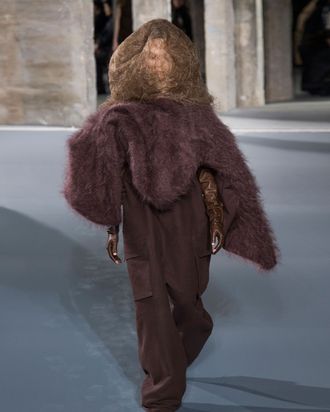 Bear, is that you?
Photo: AlessAndro Lucioni/Imaxtree/AlessAndro Lucioni
Fourteen models walked Rick Owens's show wearing hairy balls over their heads that encased them down to mid-shoulder. Created by hairstylist Duffy and his team, the bubbles were kept in shape backstage using balloons that were popped just before the show. Hairpins and hidden topknots secured them. "If you look at them, you notice they're all different shapes, some oblong, some oval," Duffy explained. Fortunately, the balls were packed loosely enough that models could still see light and the runway.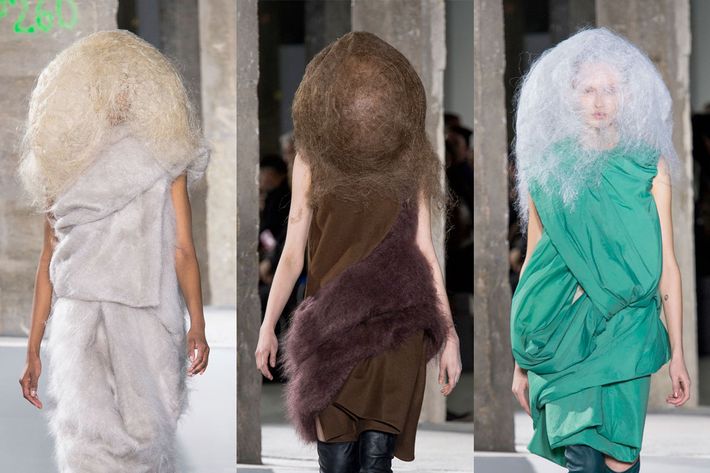 For the models who weren't lucky enough to wear a hair ball, other looks included "long, greasy hair" (as seen on the look board) and the "dandelion," a soft, textured haze of hair that puffed over the face. Duffy said that the hair helped to extend the silhouette of this season's clothes, as if the fabric had almost grown up over the models. One garment was a hairy brown coat that looked like the bear carcass from The Revenant. The makeup by Sammy Mourabit and team (using M.A.C Cosmetics) aimed for a Pre-Raphaelite look, alabaster skin, bleached brows, and eyelashes toned down with concealer.
The hair balls, alas, won't be available for sale. They were spotted getting packed away in balloons backstage, and whisked away to Rick Owens's studio. 
Click through the slideshow for more beauty looks from Paris fashion week.