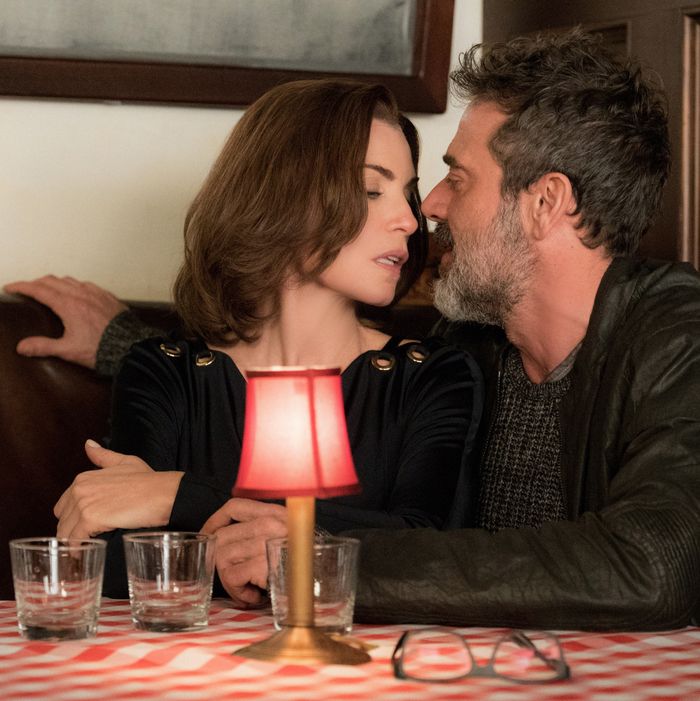 Alicia geting handsy on 'The Good Wife'
Photo: David M. Russell/CBS
On this week's episode of The Good Wife, Alicia Florrick jerks off a hot guy in a public place underneath a checkered tablecloth, in a scene that is sure to go down in the illustrious HJ Hall of Fame.
"You are a constant source of surprise," purrs the husky, tatted-up boyfriend of Illinois's fake-married First Lady as she acts like a naughty schoolgirl beside him.
"I wasted the last 20 years; I'm not going to waste the next one," she demurs with a reckless I'm-a-grown-woman-acting-like-a-teenager sense of abandon.
Hold up. Did she just equate hand jobs with not wasting your life? Yes, yes, she did.
And let's not forget the heroic HJ mathematics that save the day on HBO's Silicon Valley, when a character says of a tech competition he's entered, "We're going to win. Even if I have to go into the auditorium and personally jerk off every guy in the audience."
Finally, it seems, pop culture is signaling what I have long known: The hand job is ready for its lubricated moment in the sun. And it's about time. Because the HJ is the definition of genteel modern decadence. Or so my spouse tells me.
"You know what's so great about getting a hand job? How passive it is," he explains as I prepare to give him one. "It's a real indulgence. You could do it yourself. And if someone can do it even better, then that's like the ultimate."
As a married woman, I would rank it as my third favorite sex act go-to (No. 1 intercourse, No. 2 oral, No. 3 fun with fingers). As a single woman, I would have ranked it at the very top. Because a bonus benefit of the HJ is that when you're young and restless, no one in the Sexual Accounting Department really counts hand jobs when racking up your "number." It's like sexy sex that didn't happen — except it absolutely happened.
Because executed to completion or not, an HJ is for real.
"Sweet is the new nasty," one of my friends says, explaining her love of the 5- (or 10-) fingered deed. "Like, if you watch enough porn, everyone sees these sloppy, over-the-top, ridiculous blow jobs, and then these obscene cum shots, and it's just like — enough already. I get it."
Another girlfriend puts it in more practical terms: "When you've done pretty much everything under the sun with your boyfriend, an unexpected hand job sometimes can reignite that early sexual tension that might get taken for granted as a relationship goes on."
Was there some kind of innocence-restoring magic to the act itself? I reflected long and hard about the HJ. I compared it to the BJ. I even contrasted it with the three-way. My conclusion: Some of the wildest sex I've ever had is a blur, but all of those sweeter, simpler hand-jobbier times? I remember almost every second, every sharply inhaled breath, every delicate motion and misstep.
When I went on Amy Schumer's Comedy Central show a few years ago, I awkwardly brought up the subject in relation to an ex-boyfriend, confessing, "I had a guy who really liked handies."
"I seriously haven't given a hand job to completion since like elementary school," Schumer joked back.
I had to concede the point, "Yeah, it's a little immature."
But here's the rub (and tug): That's also what's so dirty about it.
In recalling his first formative HJ memory, my husband tells me: "When I was in high school, a girl who was two years older than me, who I wasn't even dating, asked me out at the last minute to go see Cry Freedom. I was thinking, 'Oh, I might kiss her at the movies.' And then, an hour in, she just grabs a big handful of dick and doesn't ask anything in return. We stayed through the credits. It was awesome. So that's my review of Cry Freedom."
His moving story stirred my soul.
"Can we try something?" I ask. "I want you to tell me every single thing you like, and every single thing you don't like when I touch you, okay? And then you can do me later."
Here's what I learned after about a half-hour of majorly overaggressive fooling around on my part:
About 72 percent of the time, I totally suck at hand jobs.
"Here, babe, let me show you," my husband shook the tension out of my hand gently and reduced my death grip to a much softer, page-turning level of casual muscle exertion. "Do you feel any difference? Do you see how I'm reacting?"
I did. I could also see the tightness in his face melt as I grew more comfortable with what I was doing.
"There are levels of good to it," he said. "You can get angles and certain pressure points that you can't get on your own. When you learn exactly where to sustain that level of intensity, it feels like some ancient pleasure ritual."
Or as one of several men surveyed by Cosmo told the magazine: "It feels like ecstasy when done correctly."
Yet many men don't even give a woman a chance to try. Or, as a college student told the New York Times: "Guys will say, 'A hand job is a man job, a blow job is yo' job.'"
But is it?
Not to get too political, but I honestly believe a hand job is America's job.
Sadly, until I got married, no man felt comfortable enough to give me the down-to-the-fingerprint-swirl real talk about what feels truly amazing — according to his own anatomy, sexual history, and overall preference.
I'm not the only one who's bumbled in the past. As Garfunkel and Oates complained in their 2010 hit song, "I Don't Understand Job," the act can be ultra-mysterious to even the most confident among us: "Hand job, bland job/ I-don't-understand job/ Do I spit, do I squeeze, do I ever touch the top?/ How can I learn when you always make me stop?/ Now I'm on a full-blown investigation / To unlock the secrets of ejaculation/ I need a translator like I'm reading Balzac / To crack the Rosetta Stone over your ball sac."
At worst, hand jobs can be a horror show. Remember last year's viral movie trailer parody "Hand Job Cabin," in which a ghost gives killer stroke sessions with no lube? The movie wasn't real, but the lubeless nightmares far too often are. Why? Lack of education.
It's time to leave such ignorance in the past and embrace the firm grip of progress. Did you know we even have an upcoming international holiday for handies? That's right: July 21 was declared Hand Job Day (named as such because the Japanese word for masturbation — onanii — is a pun on the number 07.21).
But don't wait until the last minute to get your HJ Day shopping done. It'll be here before we know it. My shopping list this year is actually pretty short. A little long-lasting water-based lube, two or three spa-treatment manicures, and one DVD of Cry Freedom.