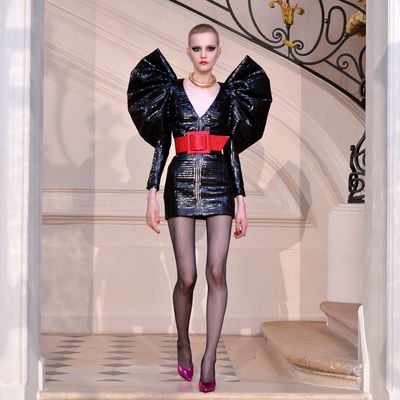 And it included some big shoulders.
Photo: Francois Durand/Getty Images
After Part 1 — a feat of West Coast razzle-dazzle at the Hollywood Palladium that included his most explicit Yves tribute yet — what could did Hedi Slimane possibly have up his paisley sleeve for Saint Laurent, Part 2? After all, it's tough to top Justin Bieber in the front row and 91 looks. So tonight in Paris, Slimane made a surprise announcement: This would be the take on couture he's been teasing since the summer. (The last time the house showed couture was under YSL himself, in 2002.) The collection was made entirely in Paris and Angers — the prodigal L.A. son's return to his home turf? In a time of great speculation about Slimane's future at the house, he made some very contradictory moves: He dedicated the collection to his studio and couture ateliers, which could be interpreted as a farewell, but the collection also emphasized a new branch of the house that he's spent a year building.
Titled, "La Collection de Paris," the show was a complete 180 from the Hollywood Babylon atmosphere of the Palladium show. It was held in a historic hotel particulier on the Rue de l'Université that has been designated Saint Laurent's new couture house. Attendees got to sit in real chairs with gold nameplates on them (that were gleefully 'grammed by showgoers tired of sharing narrow, anonymous benches). And rather than have the band of the moment soundtrack the show, this season was silent, in the style of a true old-fashioned couture outing. Bénédicte de Ginestous read aloud the look numbers, which she used to do for Yves's couture shows dating back to 1977.
So what does Hedi couture look like? There were 42 looks in total: lots of one-shouldered dresses with jagged, puzzle-piece shapes and ultramini hemlines in thoroughly '80s fashion. They were clearly in Anna Dello Russo's wheelhouse: She was 'gramming intently throughout.
There was a gleeful emphasis on huge sleeves. One look came with outsize, Batman-style wings.
The final look: a fur coat shaped simply like a heart — a fitting closer to Slimane's love letter to the house.