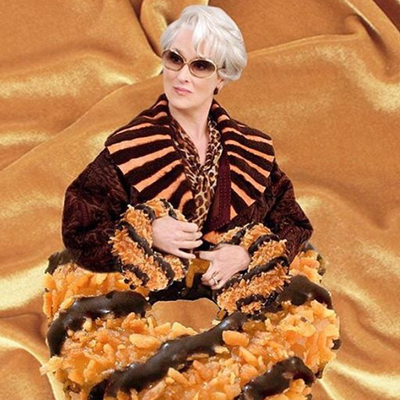 The Samoa to top all Samoas. Photo: taste of streep/Instagram
Warning: When die-hard Meryl Streep fans find the Instagram account taste of streep (@tasteofstreep), they could have some issues focusing for a few minutes and experience a case of shaky hands and unsteady legs. Dizziness and shortness of breath may also occur.
Sixteen-year-old me, who was writing down a list of must-watch Meryl movies instead of taking notes in chemistry class, would have seen this account, squealed, and fell on the floor. Twenty-three-year-old me is going to attempt professionalism and pretend she did not experience all of the above reactions.
The account's owner, Brooklyn-based actor and graphic designer Samantha Raye, got the idea on a Photoshop whim, she told the Cut in an email. She combined a photo of Streep in the lesser-known and oh-so-wonderfully '80s film, She-Devil, with a strawberry-frosted doughnut, and voilà! Two classics made a masterpiece.
Raye officially started the account in January, and since then, it's taken off with samples from nearly every food group. She says Streep was her number-one choice for the account, because well, she's Meryl Streep. And she also has some pretty rad fashion choices, including this sheer jumpsuit.
"There are so many great actors that I admire, and I could go on for reams about each one," Raye says. "But come on, Meryl Streep tops everyone's  list… From what I've seen in interviews, she has a killer sense of humor and a love of life. No apologies for who she is, and honestly, I think she seems unbelievably cool. Pair that with food, and you've got one stellar combo."
These days, M. Streep has made life interesting, recently stating at the Berlin Film Festival that "we are all Africans, really," which resulted in my whispering, "No, no, no, no, no" a bunch of times and maybe retorting with the tiniest of Miranda Priestly–style eye rolls.
But it's been a few weeks of lady heroes saying things that aren't so great (e.g., Gloria Steinem, Madeleine Albright). And in times of disappointment, we need brilliant Instagram accounts like this one, of Meryl Streep just lounging in, around, and with different types of food.
Above all,  Raye wants her fans to remember this simple Meryl life philosophy from the 2010 Critics Choice Awards: "I really love what I do, I love acting, and I love to work. And I love food, and I love sex."
With this nugget of wisdom in mind, here is taste of streep. There are so many Meryl-food-Insta combos to select from (all the cover-photo choices!), but below are some of the best. Heads up — so many puns:
Cannoli Queen.
Sultry sriracha Streep.
Mozza-Meryl.
Life's not complicated when you're in a bath of mac.
Hey! That's nacho Oscar!
Celery with star power.
Sour cream, à la 1981 Rolling Stone Meryl.
"Margaret Hatcher."
Sophie chooses churros.
Always want Samoa Meryl.
This post has been updated to include the interview with "taste of streep" account owner, Samantha Raye.