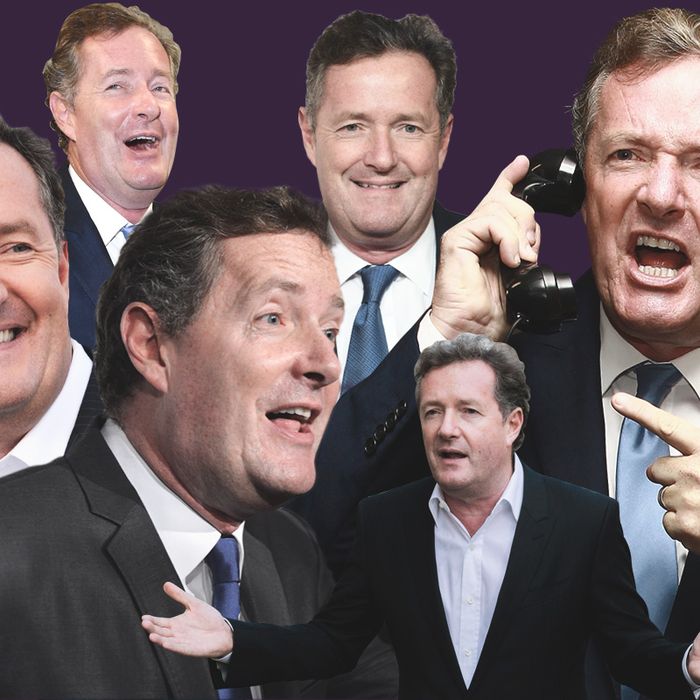 Terrible Opinion Haver Piers Morgan
Photo-Illustration: Getty Images
Though there are probably many reasons to despise former CNN host Piers Morgan, the most compelling is that he has really terrible opinions. There's a "Deport Piers Morgan" petition with over 100,000 signatures on whitehouse.gov. A Google search result for "piers morgan tool" yields over 884,000 results.
So to celebrate Piers's 51st birthday today, and his most recent terrible opinion — that reporter Michelle Fields is "utterly pathetic" for pressing charges against Trump campaign manager Corey Lewandowski — we humbly present a (radically condensed) history of Piers Morgan's awful opinions:
February 2014: Piers Morgan misgenders Janet Mock, then makes it about him when she calls him out for it.
Trans activist Janet Mock goes on Piers Morgan's short-lived CNN show to discuss her memoir, Redefining Realness. The chyron reads, "Janet Mock: Was a boy until age 18."
He also tweeted out this question:
After Mock called him out for "sensationalizing" her story, Piers could've apologized and learned from the experience. But no.
Honestly, if this is the most disgraceful way Piers has ever been treated, he's lived a pretty decent life.
November 2014: He tells black people to stop using the N-word.
July 2015: He reveals himself as an "All Lives Matter" guy because of course Piers Morgan is an "All Lives Matter" guy.
Bonus bad opinion from July 2015: Piers Morgan pens an op-ed  about how Nicki Minaj shouldn't have spoken out about "Anaconda" not getting nominated for Video of the Year. He calls Nicki "a stroppy piece of work." Charming.
October 2015: Piers writes an offensive article about why Ben Carson wouldn't be a good president.
It's hard to go wrong attacking Ben Carson: Like Piers, he also has really bad opinions about a lot of things. But of course, Piers couldn't have a good opinion, because he never does:
Don't worry, his opinion gets worse:
Bonus bad opinion from October 2015: Piers blames the Kardashians for Lamar Odom's coma.
In his op-ed, Piers states, "Lamar Odom's tragedy is that he just couldn't keep up with the Kardashians." He writes that although Lamar is in a coma, "his dignity and reputation are already dead, shredded at the altar of reality television."
Although he writes that he doesn't blame the Kardashians for Lamar's downfall — instead he blames "society" — he says Lamar's relationship with Khloe triggered his demise.
February 2016: He slut-shames Susan Sarandon for daring to show some cleavage.
Long story short: Susan Sarandon showed some cleavage at an awards show. She looked hot, and that made Piers very sad.
Piers was also really sad about all the feminazis attacking him:
March 2016: He slut-shames Kim Kardashian; she claps back.
After Kim K posted a nude selfie, Piers Morgan decided to take the high road and not weigh in on a subject that has literally nothing to do with him. Just kidding!
But that's not all. Piers then continued to wax poetic about a grown, independent woman posting a censored nude photo of herself. He complained that Kim didn't tweet back a nice response to his insult:
The tone and wording of the tweets led me to suspect Kanye West may have seized her phone. But until or if we hear otherwise, we must assume it really was Kim who's now morphed into a bragging, taunting female version of her other half.
Hey, Piers, if you can't handle the heat, get out of the kitchen. (Or write a Daily Mail column whining about how Kim Kardashian sucks because she's not nice to you. Whatever floats your boat.)
Which brings us to Tuesday, when he tweeted about Brietbart reporter Michelle Fields pressing assault charges against Trump campaign manager Corey Lewandowski:
If you thought the tweet was his last word on the matter, you don't know Piers. He's decided to punish us with a whole column about it:
Happy Birthday, buddy.