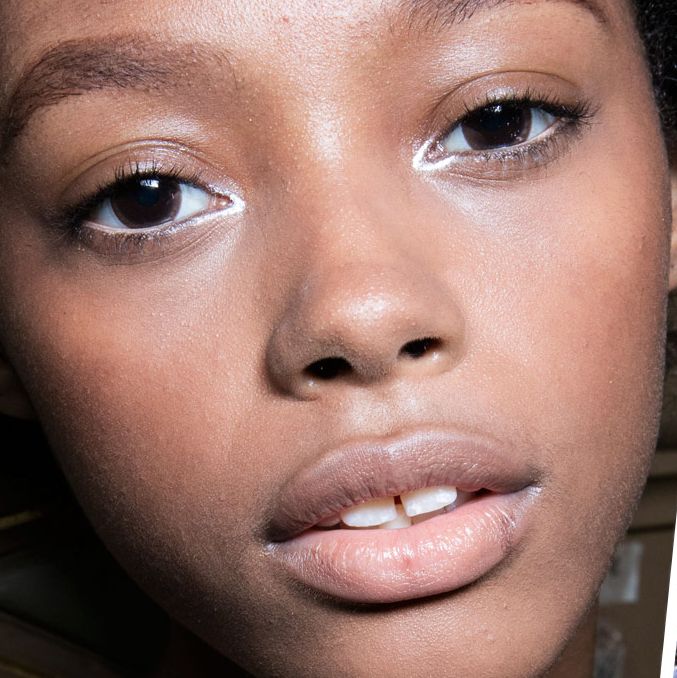 Photo: Imaxtree, Getty Images
It was 7:50 at the Palais Garner in Paris. It was rainy, and I wrested myself out of bed, tossing on the same thing I wore the day before because my brain was still foggy and I had to make it to Stella McCartney's early call time. I looked gray and puffy, my eyes almost crossed from fatigue. But the models backstage, despite having endured nearly a month of fashion weeks, looked dewy, fresh, and wide awake, as though an entire team of adorable animal sidekicks had helped them get dressed and do their makeup. Actually, they had the next best thing: Pat McGrath and her team, who created a glowing (but not strobing) look that called attention to the inner corners of the eye.
McGrath and her team drew on a soft-white, shimmery eyeliner on the top and bottom inner corners of the eye. Like all good highlighters, the eyeliner beckoned almost like a pearly light, calling out, "Hey, don't I look preternaturally awake and well-rested this morning?" and stealing attention away from any dark-eye circles or sallow complexions (not that models like Londone Myers or Fei Fei Sun had to worry about those things).
To do this look yourself, celebrity makeup artist Daniel Martin — a former member of McGrath's team who works with Jessica Alba and Olivia Palermo — says that placement is key. "The trick is to only focus in the inner corners rather than pull the liner on top of the lid or lash line." If you don't believe him, Google "Real Housewife white eyeliner" and you'll see exactly what he means. Pair the look with clean skin and not too much cheek color because it could conflict, Martin adds.  
You're also going to want to make sure that the white shimmer or white eyeliner you pick is opaque and richly pigmented, or else your skin will look gray. Try something like Rimmel's Soft Koh Kajal Eyeliner in Pure White or NARS Larger Than Life Eyeliner in Santa Monica Blvd. A white shimmery eyeliner is hard to come by, but at least now you know how to make your own. Click through the slideshow for more looks from Paris Fashion Week.