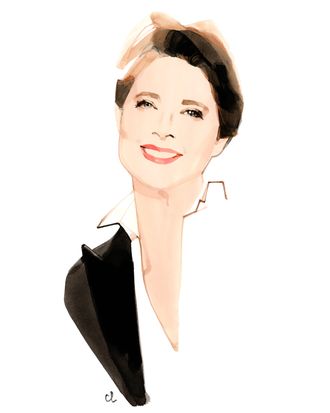 Isabella Rossellini for Lancôme.
Photo: Marc-Antoine Coulon for Lancôme
The births of Jaden Smith and the iPhone, the meeting of Wills and Kate, Shonda Rhimes taking over Thursday nights — these are things that have happened since Isabella Rossellini and Lancôme parted ways almost 20 years ago. But worry not, Lancôme disciples, because the band is back together again.
Lancôme announced Monday that Rossellini will serve as the brand's muse, reprising the role she held for 14 years beginning in 1983. She was the first-ever face of the French cosmetics house. Her new stint sounds a bit like the last: She will "spread the brand's particular vision of femininity to the four corners of the earth," according to a statement from Lancôme.
At 63, Rossellini joins a wave of women of a certain age who are fronting beauty campaigns, including Charlotte Rampling for NARS and, more recently, Helen Mirren for L'Oréal. Accompanying the announcement is an illustrated portrait by French artist Marc-Antoine Coulon — a reminder, if you will, that Rossellini is a work of art.