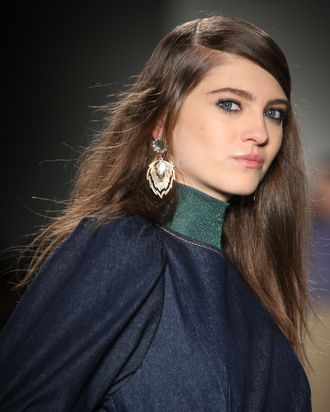 Kiko at Fashion Week, with Karen Walker.
Photo: Thomas Concordia/WireImage
The only thing better than a good drugstore beauty product is an exotic drugstore beauty product. And the only thing better than that is an exotic beauty product with drugstore pricing loved by celebrity makeup artists. Such is Kiko Milano, an Italian brand whose name recalls all sorts of delightful things, like Pepperidge Farm snack cookies, having a kiki, and Japanese model Kiko Mizuhara.
Google "Kiko Milano" and you won't find much. There's a post about Kiko's eye shadow on Into the Gloss, and a story about Yale students protesting the brand to make a point about New Haven gentrification. (As protest subjects go, it was an odd choice — the Milan-based brand might sound fancy, but the pricing makes it totally accessible.)
But if you talk to celebrity and runway makeup artists, you'll get an earful about Kiko Milano's quality and affordability. I've seen multiple packs of lavender-pink Kiko face wipes backstage at shows like Anna Sui and Stella McCartney, where Kiko's exfoliator wipes are used to buff away models' chapped lip skin. Makeup artist Tom Pecheux, a Vogue Paris favorite who does Carine Roitfeld's makeup, told vogue.com that they were his secret to perfect lipstick application.
"Some models and actresses turned me on to their famous mascara," explained Lupita Nyong'o's makeup artist Nick Barose when I asked him about the brand. "It's a beautiful beauty brand that has a wide range of innovative products that perform well and give great results at really good price points." Selena Gomez's makeup artist, Hung Vanngo, told me he spent around $2K on their products on a recent trip to Europe. Makeup artist and frequent Cut contributor William Scott praises the texture of the products and the great color payoff of the eye shadows, calling it "exactly identical to what you see on the site."
And you don't need to attend Milan Fashion Week to buy the products. They're available online and, strangely, at standalone stores at malls in Queens and New Jersey, making it easy to test out Kiko's products between munching on Cinnabon and bourbon chicken samples. Below, some recommendations for which products to try first.
Flawless Fusion Powder Bronzer — Barose says, "It looks so natural and velvety-matte, with no shimmer, which is hard to find in most bronzers. It's the perfect warm tone for sun-kissed skin." 
Water Eye Shadows — Vanggo bought one of each shade, praising how pigmented they are. These shadows have an interesting texture that feels preternaturally cool, moist, and velvety. A lot of the colors are shimmer-focused, but still highly pigmented when applied. "The luxe metallic texture goes on so smoothly and the shine adds drama to lids without having to do too much," says Barose. It also serves as a pretty good drugstore dupe (shhh) for NARS Intensity eye shadows, although some of the glittery shadows have a tad too much shine.
Eye Shadow Sticks — This is one of the brand's cult products, with over 500 reviews on the website. I generally consider eye shadow to the parsley of beauty products — something professionals often employ, but amateurs rarely use. But these sticks make application as easy as it should be: Pick a color you like, apply, and forget about it for the rest of the night. They're long-lasting, and the colors are super-pigmented yet easy to blend. 
Super Color Mascara in Sky Blue Best — Barose calls this mascara "a way to add fun to your lashes with a bold blue shade." The brand's Volume Mascara also is a favorite among beauty bloggers, who say the wand and its effect are similar to Lancôme mascaras. 
Color Correction Concealer Wheel — "Easy to use and with simple ranges to address skin discoloration, making it easy to conceal," says Barose.