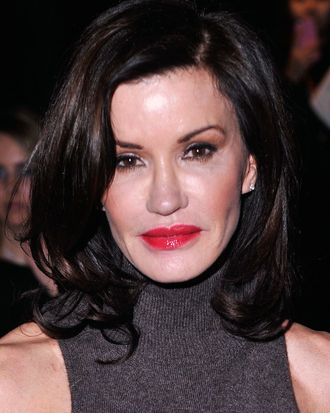 Janice Dickinson.
Photo: Stephen Lovekin/Getty Images
In an interview with the Daily Mail, former model Janice Dickinson said she was recently diagnosed with an early form of breast cancer called ductal carcinoma in situ (DCIS), which is a cluster of abnormal cells in the milk duct. It's sometimes referred to as stage 0 breast cancer. Dickinson, 61, said her doctor found a painful, pea-sized lump in her right breast during a routine exam, and she received the diagnosis after a mammogram and biopsy.
DCIS is often not invasive and oncologists have long debated whether women with the condition should take a "watch and wait" approach versus more aggressive treatments like mastectomy. Women will increasingly face this question as medical imaging improves and catches more early cancers — about one in five breast cancers diagnosed by mammography in the United States are DCIS.
Dickinson's doctors at UCLA ruled out a mastectomy and will perform a lumpectomy followed by radiation. Her treatment will be documented on the show The Doctors starting April 6. The outspoken former America's Next Top Model judge said part of the reason she's sharing her story is to encourage other women to get regular breast exams.
She's thankful for the support of her family, but urged people not to feel sorry for her. "This is not a pity party. I'm Janice Dickinson and I'm gonna stick around for a long, long time, you ain't getting rid of me yet."