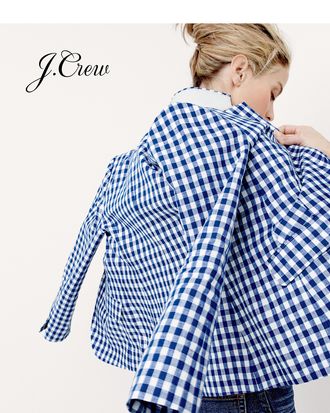 Carolyn Murphy, photographed for J.Crew's spring collection.
Photo: J. Crew
J.Crew launched its spring collection online today, featuring Liya Kebede, Carolyn Murphy, and a whole lot of gingham. Creative director and president Jenna Lyons told the Cut she took some vintage inspiration for this season's designs: "What do Brigitte Bardot, Sean Connery, Goldie Hawn, and J.Crew have in common? Damn good gingham looks."
Brigitte Bardot made gingham a fashion staple when she wore a pink gingham wedding dress in 1959. "You can't buy a yard of checked gingham in Paris, not even for kitchen curtains, since Brigitte picked the fabric," a fashion editor said at the time. Sean Connery played James Bond in short-sleeve gingham shirts in the 1965 movie Thunderbird; 19-year-old Goldie Hawn perched on a flowery couch in a Bardot-style gingham dress and white heels in 1964.
See images from J.Crew's spring ad campaign here, shared exclusively with the Cut for the product launch, and click ahead to see more spring-summer 2016 ad campaigns.