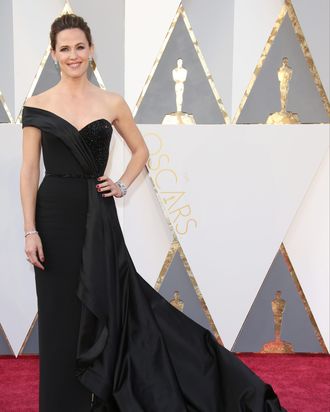 Jennifer Garner.
Photo: Dan MacMedan/Getty Images
Ever wanted to know what it takes to look serene in a perfectly tailored gorgeous gown at an awards show all night long? Let Jennifer Garner, she who refuses to be the ashes, guide you through the complete agony without the ecstasy.
"It's so intense," she tells Jimmy Fallon, who has never had to deal with this kind of body constriction before. "There's metal inside it. These people kind of move your ribs, and move your liver out of the side, and they pop you in." Fallon responds, "That doesn't sound comfortable to me," to which Garner adds that she was having rib spasms and she couldn't breathe. "You should know the truth about these things."
Any opportunity to hear Jennifer Garner utter "vagine" on national TV is worth it.