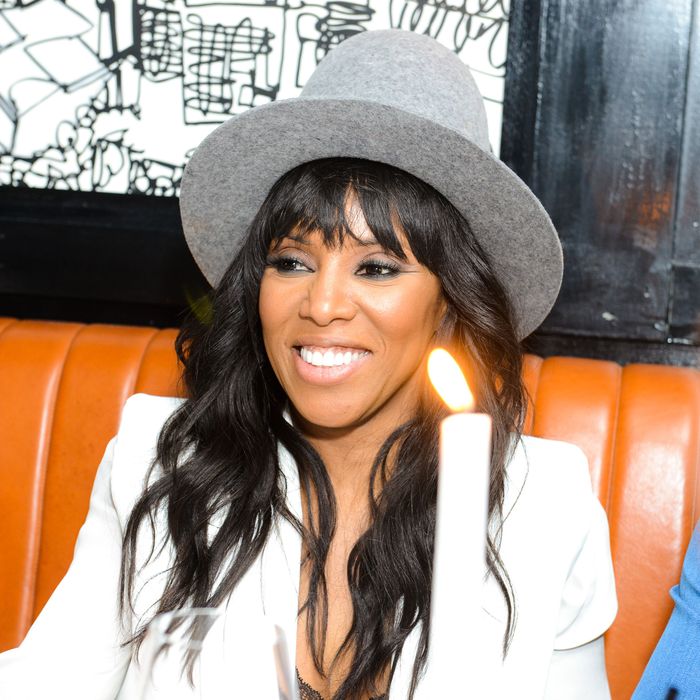 June Ambrose says choosing a hat is like choosing eyeglasses.
Photo: Madison McGaw/BFA.com
Whenever we see June Ambrose out on the town, she's wearing a hat. As it turns out, the stylist (whose clients have included Jay Z, Pharrell, and Justin Timberlake) is a longtime headwear aficionado. "I love a chapeau," she told the Cut at the Cinema Society's screening of Demolition last night. "I'm a hat connoisseur." She gets them at a range of places, from Selima to Albertus Swanepoel to new hat designers. "I'm just a collector of them, and I like the custom hats as well. I've gotten a number of them custom-blocked; I think there's something about old New York milliners that is kind of nostalgic and special, and I love introducing it to my daughter. So yeah, I love a lid."
She estimates that she has about 100 hats, so far, and displays them on vintage hooks that she collects on antiquing expeditions. "I hang them up in my walk-in closet. They're all up on the walls. And I just keep adding and adding and adding." Her fur hats go into storage in the summer.
Choosing hats, Ambrose says, is like choosing eyeglasses. "It depends on the brim size, it depends on the scale of your face, your nose, your lips. And for me, I'm vertically challenged, so I've been finding hats that have very tall shafts, that give me that extra six inches, so that when I'm wearing my flats I still get the height of a heel. So you can manipulate a hat to not only give you attitude and punctuation, but also to give you the height that you need, like [with] a dress, opening up the neckline will make you look longer. So don't just buy the hat because it's cool, buy the hat because it does something for you both clinically and emotionally."
She started wearing hats in high school, to draw attention away from her acne. "If I felt ugly, I'd put on a chapeau so people had something else to talk about. They're conversational, like shoes are. You know, women will say, 'Great shoes,' it's a conversation. My hats were that for me. They gave my personality a voice before I even had to perform, which was really nice."