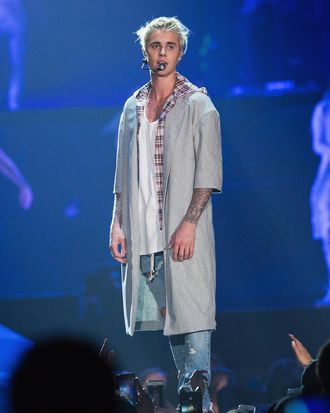 Justin Bieber, full of purose.
Photo: Mat Hayward/Getty Images
Always double check your work before you hand it in. Sure, that's a mom lesson, but it really pays when you catch that tiny mistake you missed on the first round. Someone might want to remind whoever is doing final checks on Justin Bieber's new merch of that piece of wisdom.
As the Purpose tour kicked off, Team Bieber released a boatload of skaterat-dirtbag merch to commemorate it, complete with camo jackets and tank tops plastered with the Bieb's angelic mien (but without his fly new face jewelry). Beliebers at the first show in Seattle found that one of their commemorative shirts was missing something, namely a "P."
On one of the T-shirts, there's a quote from Proverbs prominently displayed on its back with one small typo: "Many are the plans in a person's heart, but it is God's purose that prevails." Below it, the title Purpose Tour has all the necessary letters.
Bieber's team has pulled the misspelled shirts and is offering to replace the clothing, hopefully by offering them one of the "Sorry" versions.