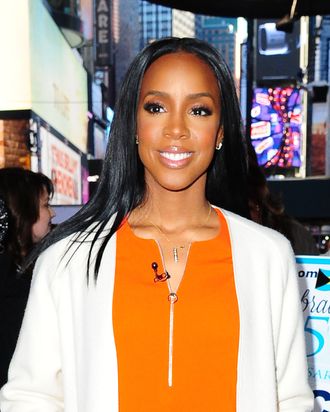 Kelly Rowland
Photo: Raymond Hall/GC Images
When she was 11, Kelly Rowland joined a girl group. When she was 18, her record with Destiny's Child went platinum. By her 21st birthday, her solo career was in full swing. You could say a lot about former child stars, but most of it would never apply to Rowland, who is overwhelmingly charming and kind in person. At a brief performance in partnership with Claritin at a New York Boys & Girls Club, the Cut caught up with her to discuss meditation after childbirth, doctor's appointments, and self-care.
How I start my day: My mornings vary. On a busy day like today, it would start at 4:45 or 5 a.m. When I'm just with my son, it starts somewhere in between 7:30 and 8:30 a.m. We wake up and hang out and have out breakfast and then brush our teeth together. We get dressed and then I work out. For breakfast I stick to egg whites, spinach, sometimes a salad on the side — I like to start out my day with greens.
How I like to sweat: I work out with my trainer Jeanette Jenkins — she is absolutely a star. She changes everything up for me on a day-to-day basis. One day we'll wake up and do a cardio-blast series. Sometimes we jog, box — the sky is the limit with her. She thinks of these really fun workouts and we have a great time together. I do spin with Jeanette as well. I am obsessed with SoulCycle! 
What wellness means to me: For me, it means making healthy choices and living healthy. I remember having a conversation with my mother a while back, and she was telling me some of the things she was eating, and we talked about a better way for her to eat and make healthier choices. I just wanted to change the way I approach my living and my wellness to make the next generation better than the last. Wellness for me really is a better way of living. I had this conversation with her right before I turned 30. At 29, I was thinking about this!
My biggest wellness challenge: The hardest thing is taking care of myself. It's a part of giving back to yourself, like meditating. For me that's prayer — having some quiet time during my day. I feel like we don't do enough of that as people. We're so busy giving of ourselves, whether you're a woman and you are married and you have a child, whatever, you're constantly giving to your job or to friends or to family. You have to put something back into yourself so you have something else to give. I've been meditating for a year. When I had my son I realized how important it was [laughs]. I do it whenever I get a second.
My wellness shortcut is: I don't think there's any shortcut. You just have to be conscious of your body and how you feel, mentally, physically, spiritually.
What I eat when I'm alone: Cheese. It's not something I should have or a part of my nutritional plan. I just did some blood work and they were just telling me how dairy is not my friend. But whenever I have a second and it's just me and some crackers and Gouda cheese? Oooooh. I'm so happy.
My wellness advice is: Stay in tune with your body. Know what's going on with your body from head to toe. I remember that once I started making money I went to an eye doctor, the dentist, and every doctor I could think of because I just wanted to know what was going on in my body. The more we are in tune with our body, the better we can take care of it.
This interview has been edited and condensed.